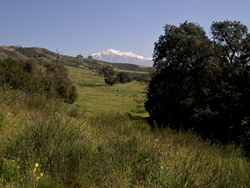 Those of us who love Live Oak Canyon see it as essential to the character of Redlands and wish to save it at all costs.
Redland, CA (PRWEB) April 04, 2016
In spite of a beautiful and generous collaboration between the City of Redlands, the Redlands Conservancy and the landowner, a 40 acre piece of Little Live Oak Canyon is about to go to a developer, to bulldozers, roads and high-end housing. Dr. Watson stated to California CEO magazine that the land could be bought for $9.6 million within the next 3 months. This would preserve it as a buffer zone for some of the most pristine oak grove and grasslands 60 miles from Los Angeles, and it is within the Redlands city limits.
A dedicated group of citizens has formed Save Live Oak Canyon in the hopes of purchasing a120 acre parcel in the canyon for 9.5 million with pledges from those who care about open spaces and wildlife.
Those of us who love Live Oak Canyon see it as essential to the character of Redlands and wish to save it at all costs.
Great effort has already been invested in this process with current preservation totaling 332 acres. The City purchased 60 acres of this 180 acre parcel. Another 80 acres will be designated as open space when the development is recorded. An adjacent 90 acres has just been gifted to the City by two generous citizens to be used as open space or for agriculture. In 2013 the City purchased 172 acres along Live Oak Canyon Road, and in addition, 10 acres adjacent to Oakmont Park. We are approaching a nexus of saving a natural area large enough to be significant to the environment in many ways.
Like the infrastructure of roads and highways, Live Oak Canyon is integral to the green infrastructure that connects the wildlife corridors from the San Bernardino Mountains to the carefully preserved green areas of Riverside County. It hosts migrations of birds, most beautifully blue birds, cedar waxwings and meadowlarks, but regular avian residents are also notable. It is a hiding place for wild creatures of many sizes.
The scenic vistas of San Gorgonio, San Bernardino and San Jacinto mountains and the canyon itself are a delight to all who venture into the area, walking, bicycling or horseback riding. What a place of peace and regeneration, a quiet spot for mental health and physical exercise! Such a place attracts people to live and work here and hence the vibrant entrepreneurial businesses and institutions flourish that need highly educated employees. These are the kind of people who have built the historic legacy of Redlands as a town of people who care about its present and future.
It is an area that collects our limited rainwater.
Most intriguing of all, it is the disputed location of a Native American geoglyph, the size of a football field, with celestial orientation. From this spot you can witness unobstructed spectacular Summer and Winter Solstices through notches in the mountains and be convinced that the geoglyph has historical significance.
If left alone, the Canyon is a sustainable place, as it has been for millennia.
Redlands is a city known for its elegant Victorian homes, orange groves, the University of Redlands, ESRI, good schools, many wonderful neighborhoods, as well as gorgeous sunsets and wonderful mountain views. Not known to many is a natural magnificent canyon in the southeast section of the city which has an abundance of migrating birds, a large variety of plants, and animals, many using the wildlife corridor coming down from the mountains, crossing the Wabash bridge of the freeway making their way into the canyon.
It is believed by many that a precious piece of earthen art, a geoglyph of an antlion insect, which was seen in a 1938 aerial photograph by members of the Yucaipa Historical Society, was created in the canyon by ancient tribes, but since has been removed. It was situated in the western part of the canyon near Freya Drive where during the summer and winter solstice a beam of light aligns piercing through the notches in the mountains to where the Redlands geoglyph had been – a spectacular view!
This parcel, just ten minutes from downtown Redlands, added to the 240 acres already acquired by the city and maintained by the Redlands Conservancy and another 100 acres being donated, would be a haven for those who enjoy the outdoors and love to hike, bicycle and/or horseback ride.
To view the Canyon area go to "saveliveoakcanyon.org" and click on Meet the Canyon and read about our purpose and how you can help. At the same site you can also view Peter Coonandt's wonderful video "This Sacred Land" giving you a better understanding of the importance of saving the canyon.
For more information or to join us in our effort to protect this land. Save Live Oak Canyon 909-794-5036 or saveliveoakcanyon.org