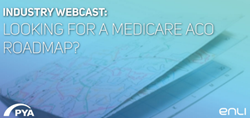 Applying for the MSSP is a multi-step process with several hard-and-fast deadlines, the first of which is May 30, 2016, for filing the NOI. That's where PYA can further assist
Knoxville, TN (PRWEB) April 01, 2016
With the quickly approaching deadline to file a Notice of Intent to Apply (NOI) for the Centers for Medicare & Medicaid Services' (CMS) Medicare Shared Savings Program (MSSP), national management consulting and accounting firm PYA has teamed up with Bellin Health, a Wisconsin-based integrated healthcare delivery system and MSSP Accountable Care Organization, and Enli Health Intelligence, a market leader in population health management technology, to offer yet another provider resource. Together, via a webcast, they will explore the rapid growth of MSSP, its financial significance and impact on the delivery model, and the way it positions providers to pursue other value-based initiatives.
"Looking for a Medicare ACO Roadmap? An Industry Webcast" will feature a panel of nationally recognized experts with direct MSSP experience who will discuss the case for MSSP participation. The live one-hour webcast takes place Tuesday, April 5, 2016, at 2 p.m. ET/11 a.m. PT. It will cover the objectives and requirements of the MSSP, including the application process and timeline, reporting criteria, and classification tracks; explore the relationship between MSSP and other value-based initiatives; and demonstrate technology's role in meeting MSSP requirements. Panelists include PYA Consulting Principal Martie Ross; Bellin Health Medical Director of Population Health, Dr. Brad Wozney; and Enli Chief Population Health Officer, Dr. Jacquelyn Hunt.
"It's important to first understand the significance of participating in the MSSP," said Ross. "This webcast offers providers who are contemplating taking the plunge information they can use to facilitate substantive discussions and decision-making—but that's only a start."
"Applying for the MSSP is a multi-step process with several hard-and-fast deadlines, the first of which is May 31, 2016, for filing the NOI. That's where PYA can further assist," said Ross. "We work with providers to evaluate the MSSP opportunity and help them complete the full application."
PYA has also developed other complimentary provider resources—among them, a newly updated white paper, Medicare ACO Road Map, which condenses hundreds of pages of MSSP regulations down to the core requirements, and an infographic which illustrates the route providers can take to the MSSP destination of shared savings. Both resources are available on PYA's website.
About PYA
For over three decades, PYA (Pershing Yoakley & Associates), a national healthcare consulting firm, has helped clients navigate and derive value amid complex challenges related to regulatory compliance, mergers and acquisitions, governance, business valuations and fair market value assessments, multi-unit business and clinical integrations, best practices, tax and assurance, business analysis, and operations optimization.
PYA's steadfast commitment to an unwavering client-centric culture has served the firm's clients well. PYA is now ranked by Modern Healthcare as the nation's 9th largest privately owned healthcare consulting firm. PYA affiliate companies offer clients world-class data analytics, professional real estate development and advisory resources for healthcare providers, self-insured employer health insurance claims audits for Fortune 500 companies, wealth management and retirement plan administration, and business transitions consulting.
For more information, please visit http://www.pyapc.com.