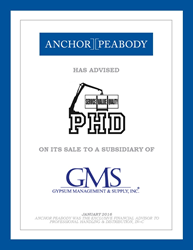 This transaction monetized many years of hard work, expertise, and good decision making.
Old Greenwich, CT (PRWEB) April 11, 2016
Anchor Peabody Advisory Services, LLC ("Anchor Peabody" or "the Firm") announced today that its client, Belvidere, IL-based Professional Handling and Distribution, Inc. ("PHD"), has been acquired by a subsidiary of Gypsum Management Supply, Inc. ("GMS"). The acquisition of PHD provides GMS with an increased presence in Chicago. Mr. Kevin O'Connor will continue to oversee the PHD operations. Anchor Peabody was the exclusive financial advisor to PHD.
"The GMS organization is a natural fit for us, and we are very excited to leverage what they bring to the table with our existing and future customers," said Mr. O'Connor, a co-owner of PHD.
"This acquisition provided a very important liquidity event for co-owners Mr. Kurt Taylor and Mr. Paul Johnson, who wanted to re-invest in their framing and homebuilding businesses - Heritage Carpentry and Heritage Signature Homes, Inc., respectively. In addition, GMS provides the perfect environment for Mr. O'Connor and his team to thrive; we think they will accomplish a lot together," said Jason Fraler, Managing Partner at Anchor Peabody. "This transaction monetized many years of hard work, expertise, and good decision making. We are pleased to have been able to assist the PHD shareholders in taking advantage of this opportunity."
ABOUT PROFESSIONAL HANDLING & DISTRIBUTION
Founded in 2007 by Mr. Kevin O'Connor, Mr. Kurt Taylor and Mr. Paul Johnson, PHD is a multi-location, Illinois‐based provider of drywall and related products in the greater Chicagoland and Rockford areas. PHD delivers and services well‐known product brands to drywall subcontractors, homebuilders and general contractors. For more information about PHD, please visit http://phandd.com/.
****
ABOUT ANCHOR PEABODY
Anchor Peabody provides investment banking services to owners and executives of middle-market building industry companies. The Firm has a reputation for fostering long-term relationships with its clients as their independent advisor of choice on transactions such as selling or buying a business, mergers, recapitalizations, restructurings, and other transaction-related matters. Anchor Peabody is one of the most active middle-market advisory firms, having completed a variety of transactions with some of the industry's premier firms and executive teams. The Firm combines decades of experience as industry operators, investors, advisors, and owners with a full-time focus on providing financial advice to the building products and construction industry. For more information, visit http://www.anchorpeabody.com.