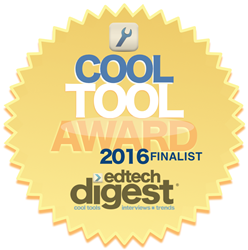 "Individualized learning pathways and our university partnership broadens our ability to meet educators' PD requirements."
(PRWEB) April 04, 2016
EdTech Digest named PD Learning Network(PDLN) a Finalist for its 2016 Cool Tool awards in the professional development category. Launched in late 2015 by experienced teachers, EdTech trainers, curriculum specialists, and administrators, PDLN provides K-12 teachers with competency-based badge and micro-credential courses in educational technology.
PDLN's affordable, flexible, individualized professional development courses help educators build EdTech skills and apply them to 21st century learning. Competency-based assessments and third-party evaluation lead to micro-credential badges, curriculum that is ready for immediate classroom use and optional university credit through PDLN's new partnership with the University of the Pacific's Center for Professional & Continuing Education (CPCE).
"The Cool Tool finalist honor confirms the quality of our PD courses and their relevance to teachers' needs," stated CEO Jennifer Gibson. "Individualized learning pathways and our university partnership broadens our ability to meet educators' PD requirements."
"This year's program had some very stiff competition; hard decisions were made in selecting winners. The honorees are among the best and brightest in the EdTech space." We're proud to honor these cool tools, leaders and trendsetters in education technology," says Victor Rivero, editor-in-chief of EdTechDigest.
About PD Learning Network
Professional Development Learning Network (PDLN) creates online EdTech professional development courses for K12 educators. Badges and micro-badges are awarded based on competency, rather than attendance. PDLN's team of experienced educators and EdTech trainers curate content and develop original video-based courses designed to meet the needs of 21st century educators. Assessments are created with the goal of immediate classroom application. The rigorous evaluation system, credentialed evaluators, and optional university credit, ensure the value of our badges. Courses are aligned to international ISTE-T standards.