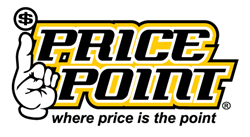 This sale couldn't have come at a better time for all cycling enthusiasts. Add on free shipping and this becomes the event to get you geared up for the summer season"
Rancho Dominguez, CA (PRWEB) March 31, 2016
Price Point, one of the Nation's largest online cycling retailers announced after months of negotiating with some of the industry's biggest brands, that Price Point has secured the best deals in the company's history. The Price Point purchasing department worked out deals with Kali, Easton, Bell, Giro, Mavic, Fox, 661 and Troy Lee just to name a few. Price Point plans to pass on these savings on to consumers through a sale that will include 2,000 plus products at discounts as large as 93% off. Aside from the brands mentioned, the sale will also include products by; Shimano, Niner, Sram, Fox, Mavic, Easton, Kali, Maxxis, Kenda, Cateye, Giro, Bell and 150+ additional brands.
Price Point's Director of Purchasing stated "This is the biggest sale with the biggest savings ever offered in one promotion in Price Point history. This sale couldn't have come at a better time for all cycling enthusiasts. Add on free shipping and this becomes the event to get you geared up for the summer season". The event will include mountain and road bikes, frames, apparel, shoes, accessories, handle bars, grips, stems, saddles, brakes, drive trains, forks, suspension, helmets, protective gear, eye-wear, pedals, tools, stands, lubes, cleaners, wheels, tires and tubes. This sale will be coupled with Price Points Winter Blow Out, Women's Apparel Event and deep discounts on all clearance items.
The sale starts April 1st and will continue through April 30th. The Winter Blow Out http://www.pricepoint.com/sale/winter-blowout will run April 1st through April 15th and the Women's Apparel event http://www.pricepoint.com/shop-women-s/ begins April 1st and continues through the end of the month. Clearance items will be deeply discounted the entire month of April. To view all of Price Points current promotions visit http://www.pricepoint.com .