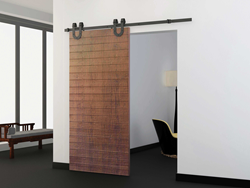 Interior Sliding Barn Door Hardware Brings Updated Style & Character to Any Space
Bogota, NJ (PRWEB) March 31, 2016
Interior Sliding Barn Doors are increasingly becoming a popular choice in the interior design concept. Not only does it improve the ambiance of the space, but also it adds a unique feature to any design.
DiyBarnDoor.com steel Sliding Barn Door Hardware Kits are designed to be mounted by Do It Yourselfers without any difficulty to maximize the amount of usable space in any room, especially smaller rooms, which are greatly obstructed by the considerable radius needed to open conventional swing out style doors.
Diybarndoor.com Sliding Barn Door Hardware Kits combine superior, unwavering manufacturing values with exceptional functionality to yield incomparable products that not only elegantly blend into any traditional or contemporary setting. Diybarndoor.com Rolling BarnDoor Hardware Kits can hold even the heaviest doors with ease, and are engineered and built to ensure years of trouble free operation.
Offered in powder coated matte or stainless steel finishes, diyBarnDoor.com BarnDoor Slider Kits consist of solid steel or reinforced 304 stainless steel components that convey a true sense of substantial quality and heft unmatched by lesser, mass produced counterparts, and are certain to substantiate one's appreciation of the workmanship and materials used in their construction.
About Outwater (Outwater Plastics Industries, Inc. +
Architectural Products by Outwater, LLC): Outwater can be contacted Toll Free at 1-800-631-8375 (for sales and product information in the USA & Canada) / 1-201-498-8750 (for sales and product information outside of the USA & Canada) or viewed online at http://www.outwater.com
Outwater was founded as a brick and mortar company in August 1972 to provide small and mid-sized furniture and cabinet builders with a reliable source from whom they could purchase plastic extruded profiles in smaller quantities.
From the vendor of a single product line, Outwater, with sales and distribution facilities in New Jersey and Arizona, is an international manufacturer and distributor of more than 65,000 traditional and innovative products required by woodworkers, cabinet and furniture manufacturers, builders, remodelers, designers, architects, point-of-purchase and display fixturing manufacturers, OEM's, and retail consumers.
Contact: Rosalie Conti, Public Relations
Outwater Plastics Industries, Inc. +
Architectural Products by Outwater, LLC rosalieconti(at)outwaterplastics(dot)com
(201) 498-8750
Outwater Plastics Industries, Inc. +
Architectural Products by Outwater, LLC
Sales & Product Information (USA & Canada):
1-800-631-8375 / 1-201-498-8750
Fax (USA & Canada): 1-800-888-3315 / 1-201-498-8751
Sales & Product Information (Outside of the USA & Canada):
1-201-498-8750
Fax (Outside of the USA & Canada): 1-201-498-8751
Email: info(at)outwaterplastics(dot)com
Web: http://www.outwater.com
New Jersey • Arizona
###