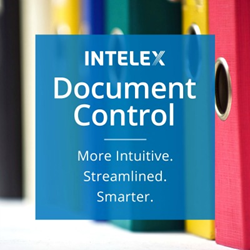 We worked closely with our valued customers to enhance Document Control. The new features further simplify EHS and Quality customers' management of mission critical documents.
Toronto, ON (PRWEB) March 31, 2016
Intelex Technologies, a leading global provider of Environmental, Health & Safety and Quality management software, announces the latest version of Document Control. With this release comes great new features including a more intuitive user interface, streamlined document life cycle management capabilities, smart search complete with document and meta-tag search suggestions, and overall improved integration with other Intelex solutions.
Document management is essential to organizations operating in regulatory environments. Businesses that effectively manage key processes like revision tracking thrive by turning compliance reporting into a competitive edge. With Document Control from Intelex, companies can quickly access, and more easily manage and maintain key information using a secure and centralized software solution. Complete version control ensures only the most recent and approved documents are being accessed and used across the organization.
"We're excited to bring additional innovations to the EHS and Quality management markets," says Robin Hopper, Senior Vice President of Product at Intelex. "We worked closely with our valued customers to enhance Document Control. The new features make it easier to manage mission critical documents. This release helps customers not only meet their business needs today, but also the needs of tomorrow's evolving regulatory environment."
New Features in Intelex Document Control:
Enhanced User Interface streamlines productivity with reduced clutter, fewer clicks, and new drag & drop capabilities. The user-friendly design will empower employees and accelerate adoption to quickly drive value.
Life Cycle Management takes the administrative burden away from document owners. Pre-configure how a document is approved, distributed, viewed, and reviewed, eliminating repetitive tasks and drastically improving efficiency.
Intelligent Search makes locating key documents easier by searching both the contents of files as well as the metadata based on text search queries.
Intelex Document Control is available now. Learn more.
About Intelex Technologies:
With more than 1,000 clients and one million users, Intelex Technologies is a global leader in Environmental, Health, Safety (EHS) and Quality management software. Since 1992 its scalable, web-based platform and applications have helped clients across all industries improve business performance, mitigate organization-wide risk, and ensure sustained compliance with internationally accepted standards (e.g. ISO 9001, ISO 14001 and OHSAS 18001) and regulatory requirements. Intelex is one of Canada's most highly awarded and fastest-growing tech companies and has been named one of Canada's Most Admired Corporate Cultures, Best Managed Companies in Canada, one of the fastest growing companies in PROFIT Magazine. For more information go to http://www.intelex.com.