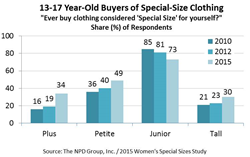 "The junior-size and plus-size mindsets are converging in the growing plus-size teen consumer segment, and it is just the beginning," said Marshal Cohen, chief industry analyst, The NPD Group, Inc.
Port Washington, New York (PRWEB) March 31, 2016
Teenage females in the U.S. are changing when it comes to the types of clothing sizes they are purchasing, according to the 2015 Women's Special Sizes Study from global information company The NPD Group. While there has been a sizeable decline among U.S. teens purchasing in the junior size category – from 81 percent in 2012, to 73 percent in 2015 – the percentage of those purchasing plus-size clothing has grown almost two-fold – now 34 percent, compared to 19 percent in 2012.
"Teens are reinvigorating the plus-size market," said Marshal Cohen, chief industry analyst, The NPD Group, Inc. "Today's young consumers know what they want and won't settle for less. This energy will turn up the volume at retail for the plus-size apparel market overall, which is important but sometimes overlooked."
A Shift in Size = A Shift in Mindset
As a whole, plus-size consumers would like to have a wider variety of styles in their current wardrobe, with half of them wanting to buy apparel brands that make both regular and plus-sizes. Teens are most likely of all age groups to feel that "brands design plus-size clothing as an afterthought" and "plus-size clothing should be offered in the same styles available for my smaller friends."
Juniors, the largest of all teen special-size segments, are more style-conscious consumers, as they have specific apparel likes and dislikes that set them apart from the other special size groups; but at the same time, they are on a limited budget. Juniors shop more frequently for tops and bottoms compared to other size groups. In contrast, plus-size women make the fewest shopping trips per year for bottoms compared to other size groups.
"A one-size-fits-all approach doesn't work for most clothing, and it doesn't work for marketing to consumers either," added Cohen. "The junior-size and plus-size mindsets are converging in the growing plus-size teen consumer segment, and it is just the beginning. Addressing the distinct differences in the way we market to, and deliver product for, junior and plus-size consumers is the first step to maximizing the potential of the entire special-size apparel market."
Source: The NPD Group, Inc. / 2015 Women's Special Sizes Study