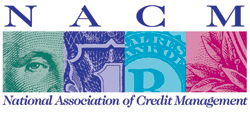 This strong reading coincides with some other national data points that have been trending in a better direction. … The sense of the subindex data is that credit conditions are improving.
Columbia, MD (PRWEB) March 31, 2016
There is good news ahead for credit managers, according to the March report of the Credit Managers' Index (CMI) from the National Association of Credit Management (NACM), as the favorable factors broke the 60 barrier for the first time since last July.
"This strong reading coincides with some other national data points that have been trending in a better direction—everything from industrial production to durable goods orders to some of the most recent transportation indicators," said NACM Economist Chris Kuehl, Ph.D.
The combined total improved from 53.5 in February to 54.3 this month. All of the favorable factors made gains of at least a point, with sales increasing the most from 56.8 to 59.2. "There was a similar gain in the unfavorable factors as far as combined scores are concerned and that is also good news as it indicates that companies are in less distress than was the case earlier, Kuehl noted. The total moved from 50.1 to 50.6, although some of the subcategories slipped slightly. Rejections of credit applications fell one point to 51.2. "These are statistics that can have alterative interpretations as this may also mean that those that issue credit can be pickier than they were prior given they are seeing more applications," Kuehl said. He noted that there are now only two categories in the contraction zone: accounts placed for collection and dollar amount of customer deductions and "that is not the direction that anybody wants to see."
"It is evident from the unfavorable numbers that there was some damage done to some in the business community by the sluggish start to the year and that damage is still manifesting in the measures of financial distress such as collection and bankruptcies," Kuehl concluded. "Given the good numbers in the favorable categories this month, it is reasonable to expect better news next month in the unfavorable categories as well."
For a full breakdown of the manufacturing and service sector data and graphics, view the complete March 2016 report at http://web.nacm.org/CMI/PDF/CMIcurrent.pdf. CMI archives may also be viewed on NACM's website at http://www.nacm.org/cmi/cmi-archive.html.
About the National Association Of Credit Management
NACM, headquartered in Columbia, MD, supports more than 15,000 business credit and financial professionals worldwide with premier industry services, tools and information. NACM and its network of affiliated associations are the leading resource for credit and financial management information, education, products and services designed to improve the management of business credit and accounts receivable. NACM's collective voice has influenced federal legislative policy results concerning commercial business and trade credit to our nation's policy makers for more than 100 years, and continues to play an active part in legislative issues pertaining to business credit and corporate bankruptcy. NACM's annual Credit Congress & Exposition conference is the largest gathering of credit professionals in the world.