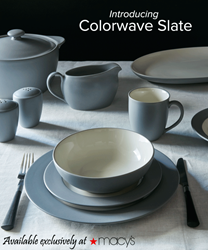 We are thrilled to have worked with Macy's during the process of developing Colorwave Slate."
New York, NY (PRWEB) May 25, 2016
Noritake is pleased to announce the launch of Colorwave Slate, exclusively available at Macy's and macys.com. Colorwave Slate is available in 3 place setting shapes and multiple accessories, and is designed to mix and match with other colors in the Colorwave Collection.
Colorwave Slate has a matte-textured, deep coloration on the outside suggestive of a dove's feather, weathered rocks, and cloudy skies, and a glossy, cream-colored glaze on the inside. 3 place setting options are available: Coupe, Rim, and Square. These components are available as boxed place settings and also individually, to maximize opportunities for personalization. In addition, the full suite of accessories and serving pieces is also available. This collection is easily transitioned from a casual dinner on the couch to a more formal holiday table, and the neutral tone of Slate is always a classic choice.
"The Colorwave Collection continues to be a success story throughout the US. We are constantly expanding the offerings in this collection, and are thrilled to have worked with Macy's during the process of developing this grey color. Not only are we creating dinnerware in a trending neutral shade that will appeal to current dinnerware shoppers, we are also creating an opportunity for current Colorwave owners to expand their collection and explore the opportunities of mixing and matching," says Peter Goldberger, Noritake's Executive Vice President.
The Colorwave Collection is one of the top registering and selling collections for over 17 years. Each color makes a bold statement while complementing each other perfectly. The 13 dinnerware colors available at Macy's have a matte-glaze solid color on the outside and a glossy, cream-colored glaze on the inside: Apple, Blue, Chocolate, Graphite, Green, Ice, Mustard, Raspberry, Slate, Spruce, Terra Cotta, Turquoise, and White. Distinct shapes allow the consumer to create a unique table setting by mixing and matching. There are 3 Dinnerware place setting shape options, Coupe, Rim and Square, all with the same mug and bowl. The wide range of colors, shapes and accessories can be dressed up or dressed down providing literally hundreds of possible table setting combinations to match any occasion.
Colorwave dinnerware is made of fine stoneware that is safe in the microwave, dishwasher, and freezer. The bakeware items are oven safe up to 475 degrees.
The Colorwave Collection, including Colorwave Slate, is available now. To see the entire Colorwave Slate collection, please visit macys.com.
# # #
Since 1904, Noritake has been bringing beauty and quality to dinner tables around the world. Superior artistry and craftsmanship, attention to detail, and uncompromising commitment to quality have made Noritake an international trademark during this past century.
Today, Noritake is an acknowledged leader in tableware manufacturing and marketing with subsidiaries, factories, and affiliates around the world. Our products are sold to customers in over 100 countries and are used in hotels, restaurants, and airlines throughout the world. Join us in continuing the Noritake tradition of distinctive designs, innovative technology, and superior product quality.
# # #