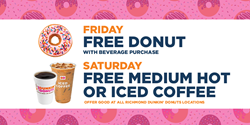 Richmond, VA (PRWEB) April 01, 2016
WHAT: To celebrate its loyal fans, participating Dunkin' Donuts restaurants in Richmond, Virginia are helping guests spring forward with a market-wide celebration.
On Friday, April 1, 2016, every Richmond customer will receive a complimentary donut with the purchase of any beverage. The celebration continues on Saturday, April 2nd with a medium hot or iced coffee for every guest (limit one per guest). Additional details around the celebration include:

The first 100 guests in line at each Richmond location at 9 a.m. on April 2 will receive a travel mug.
While they're there, guests are invited to try their hand at donut decorating at each store.
On Saturday, radio station 95.3 K95 will join the party at 6801 Forest Hill Avenue from 9 a.m. to 11 a.m., while 94.5 Q94 hosts at the Glen Allen store from 10 a.m. to noon.
NASCAR Whelen All-American Series driver, Mark Wertz, will also make a special appearance at the 9225 Atlee Rd. store in Mechanicsville.
"I always enjoy meeting the customers at Dunkin' Donuts events," said Wertz. "I love watching the kids' reactions to my racecar," he added. "I look forward to showing Richmond that Dunkin' Donuts thinks outside the box, supports the community and truly helps my team."
Dunkin' guests can sip the flavors of their favorite ice cream scoop with three "cool" iced coffee options, including a new Pistachio flavored Iced Coffee, as well as returning favorites Cookie Dough and Butter Pecan Iced Coffee. Freshly, double-brewed every time to ensure full flavor with every cup, Dunkin' Donuts Iced Coffee is the perfect pick-me-up any time of day or night.
WHEN: Friday, April 1 and Saturday, April 2
WHERE: Participating Richmond, Virginia area Dunkin' Donuts restaurants
CONTACT: Rio Ziegler, 757-627-7373, rziegler(at)davisadagency(dot)com
To learn more about Dunkin' Donuts, visit http://www.DunkinDonuts.com or follow us on Facebook (http://www.facebook.com/DunkinDonuts), Instagram (http://www.instagram.com/DunkinDonuts) and Twitter (http://www.twitter.com/DDVirginia). Find out more about the Richmond Celebration at http://www.dunkinrichmond.com.
###
About Dunkin' Donuts
Founded in 1950, Dunkin' Donuts is America's favorite all-day, everyday stop for coffee and baked goods. Dunkin' Donuts is a market leader in the hot regular/decaf/flavored coffee, iced coffee, donut, bagel and muffin categories. Dunkin' Donuts has earned a No. 1 ranking for customer loyalty in the coffee category by Brand Keys for 10 years running. The company has more than 11,700 restaurants in 43 countries worldwide. Based in Canton, Mass., Dunkin' Donuts is part of the Dunkin' Brands Group, Inc. (Nasdaq: DNKN) family of companies. For more information, visit http://www.DunkinDonuts.com.