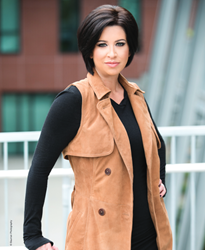 We continue to grow and expand our practice areas while maintaining our smaller size so that we can ensure we maintain the high level of quality work that we put into every case.
San Diego, California (PRWEB) April 01, 2016
San Diego Attorney Journal will feature the Law Offices of Alisha A. Wood in volume 152 of their business-to-business trade publication.
This exposé covers Ms. Wood's rise and growing success, detailing the events that brought her to California, and the establishment of her firm. With honor and excitement, she was eager to share her story about her growth within the legal industry.
Founded in 2015, the Law Offices of Alisha A. Wood is a full-service firm dedicated to assisting their clients with crisis management, dealing with DUI cases, immigration law, drug-related cases, fraud, juvenile crimes, and more.
Their comprehensive approach to law hinges on proactive work which encompases the details of a case as well as unique details for the client. Proactivity breeds success as more than just the case-at-hand is addressed.
Building relationships with fellow attorneys and other members within the legal community, the Law Offices of Alisha A. Wood has vast resources at their disposal and is willing to use them all for the benefit of their clients. From referrals to a pro-bono program, Ms. Wood and her colleges conduct themselves with dedication and determination to help those in need of legal work.
###
About the Firm
Based in Southern California, the Law Offices of Alisha A. Wood is dedicated to the simple mantra of "doing good hard work, being honest with clients, and making a meaningful impact on our clients' lives so that they can succeed after their case concludes." From immigration cases, DUI's, sex crimes, theft, arson and more, Ms. Wood and her colleagues want to provide whatever legal assistance they can, even going so far as to create a pro-bono program. For more information, visit our website to learn more.
Contact:
Alisha Wood
3990 Old Town Ave b109
San Diego, CA 92110
(619) 867-0755