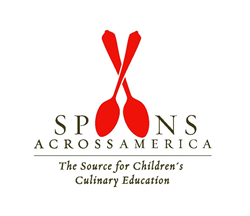 New York, New York (PRWEB) March 31, 2016
Gail Simmons, Judge on Bravo's Top Chef and Food & Wine Special Projects Director, and the New York Times Food Section, will be honored at the 2nd annual Spoons Across America (SAA) benefit on Thursday, April 7, at The Essex House on Central Park West in New York City. They will receive the Award for Excellence, an award created to honor the extraordinary careers of individuals and corporations working in the Culinary Arts, and to acknowledge their commitment to promoting healthy eating, access to quality food, and creative culinary and nutrition-base educational programming. Funds raised will support the national not-for-profit's mission to increase awareness of the importance of food and nutrition education to the health and well-being of our children.
Author, TV Personality, and National Spokesperson for Spoons Across America Jacques Pépin (the first recipient of our Award for Excellence) will present the Individual Award for Excellence to Gail Simmons.
Bill Yosses, former White House executive pastry chef and founder of Kitchen Garden Laboratory will present the Corporate Award for Excellence to the New York Times Food Section; Food Editor Sam Sifton, will accept the award on their behalf.
"We are thrilled to honor Gail Simmons for her selfless dedication of culinary excellence and to the food education that helps children and adults live healthy lives," said James Grosso, SAA Executive Director. "In addition, we are proud to recognize the New York Times Food Section for its support and commitment to the culinary education for children and families, and promoting a healthy eating lifestyle."
The event will feature a cocktails and dinner reception, award ceremony, and includes a live auction with one-of-a-kind travel and dining packages run by Auctioneer Sebastian Clark, Estate Services, Rago Arts & Auction Center.
The Co-Chairs for this year's event are Jeff Bank, Olga D'Alto, Robert "Chef Bobo" Surles, and Bill Yosses.
"Feeding children and providing underserved communities with access to nutritious food has always been a cause close to my heart, and Spoons Across America shares this commitment. It's truly an honor to be given this award," said Gail Simmons. "Their work in teaching future generations about healthful eating practices and where food comes from is an inspiration and so crucial to every child's growth and development."
"The Times's core purpose is to enhance society with high-quality news and information," said Sam Sifton. "We are honored that our work in reporting on and writing about cooking and food resonates with the mission of Spoons Across America, and to accept this award for our work alongside them at Kids Kitchen and The Times's Taste of the World Expo."
For more information, visit the website at http://www.spoonsacrossamerica.org,
Twitter @SpoonsAAmerica and Facebook at Spoons Across America.
About Spoons Across America (SAA):
Spoons Across America, ® the source for children's culinary education, is a 501 c(3) not-for-profit organization founded in 2001 and is dedicated to educating children, teachers, and families about the benefits of healthy eating. We work to influence the eating habits of children through hands-on education that celebrates the connection to local farmers and the important tradition of sharing meals around the family table.
Our core programs − The Dinner Party Project, Agricultural Literacy Week, Take A Taste with Spoons, Farm to Book, and Spoons Salad Days are in great demand − a testament to our ability to provide programs that are in-tune with the community of people we serve.