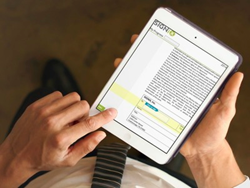 SIGNiX is the leader in real estate e-signature transactions, and implementing e-signatures into the mortgage banking industry is the next step in creating an end-to-end electronic process for real estate."
CHATTANOOGA, Tenn. (PRWEB) March 31, 2016
SIGNiX, the leading provider of Independent E-Signatures™, announced today that they will attend the National Technology in Mortgage Banking Conference & Expo to review the latest technology in mortgage banking and to demonstrate how e-signatures can streamline mortgage banking processes. The conference will be held at the JW Marriott L.A. LIVE in Los Angeles, CA, April 3-6, 2016.
The National Technology in Mortgage Banking Conference & Expo is hosted by the Mortgage Bankers Association to offer a place where emerging technologies in the mortgage banking industry can join together to learn about everything from new regulations to vendor offerings.
SIGNiX Executive Vice President, Pem Guerry, will be attending the National Technology in Mortgage Banking Conference & Expo. He will be available to meet with other conference attendees to talk about the security, efficiency and monetary benefits of e-signatures in mortgage.
"SIGNiX is the leader in real estate e-signature transactions, and implementing e-signatures into the mortgage banking industry is the next step in creating an end-to-end electronic process for real estate," said Guerry. "I'm looking forward to meeting with leading industry partners to discuss ideas for expanding adoption in the mortgage banking space."
During the conference, Pem will be available to answer any questions attendees may have about implementing e-signatures.
About SIGNiX:
SIGNiX, the most trusted name in Independent E-Signatures™, makes signing documents online safe and secure with comprehensive legal evidence permanently embedded in each document to eliminate any dependence upon SIGNiX. The company's cloud-based service uses patented technology to give businesses and organizations the most secure and legally defensible e-signatures available at a fraction of the cost of wet ink signatures. SIGNiX's products help the world's leading companies become more efficient, decrease risk and boost profits.
For more information, visit http://www.signix.com. You can also follow SIGNiX on Twitter @signixsolutions, LinkedIn, Facebook and Instagram.
About MBA:
The Mortgage Bankers Association (MBA) is the national association representing the real estate finance industry, an industry that employs more than 280,000 people in virtually every community in the country. Headquartered in Washington, D.C., the association works to ensure the continued strength of the nation's residential and commercial real estate markets; to expand homeownership and extend access to affordable housing to all Americans. MBA promotes fair and ethical lending practices and fosters professional excellence among real estate finance employees through a wide range of educational programs and a variety of publications. Its membership of over 2,200 companies includes all elements of real estate finance: mortgage companies, mortgage brokers, commercial banks, thrifts, Wall Street conduits, life insurance companies and others in the mortgage lending field. For additional information, visit MBA's website: http://www.mba.org.