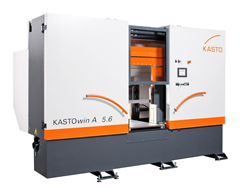 KASTOwin A 5.6 Bandsaw provides Klein Steel with increased productivity along with high cutting performance and impressive repeatability.
Rochester NY (PRWEB) March 31, 2016
Klein Steel Service (http://www.kleinsteel.com) today announced that its metals processing center has completed installation and has begun operating a new, fully automated KASTOwin A 5.6 Bandsaw designed for mass production sawing of solid material, tube and profile. The KASTOwin A 5.6 Bandsaw will provide Klein Steel with increased productivity, efficiency and reliability.
Klein Steel is planning for aggressive growth in 2016 as a result of having added new customers and greater volume with their existing customer base. "As our production volume continues to increase significantly year over year, we invest in incremental processing capacity to manage and improve our lead times," said Todd Zyra, President.
"We evolved our business from being a distributor to a component manufacturer by really always bringing in advanced, high-end equipment," said Zyra. "In the last ten years, the company has invested significantly in itself to create an environment which is home to both the most advanced automation equipment available and the moving equipment necessary to make it count."
"Not only will the KASTOwin reduce our saw center lead times, it will also increase throughput on our high-speed drill line," added Jim Sloan, Director of Operations. "For many of our larger, structural jobs, the first stage of processing begins with bundle cutting of materials. This addition will enhance that capability."
The Klein Steel KASTOwin A 5.6 has been installed with a fully integrated infeed and outfeed conveyor system for streamlined material handling of material up to 50ꞌ in length which provides Klein Steel with increased productivity along with high cutting performance and impressive repeatability.
About Klein Steel
Founded in 1971, Klein Steel Service Inc. is a premier steel service center with locations throughout New York State. With over 3,500 line items of carbon, stainless steel, and specialty metals, the company offers a full range of value-added processing, an integrated distribution network that extends the Klein Steel reach worldwide and compliance to strict NQA-1 guidelines. Klein Steel is acknowledged as an industry leader having been named the 2015 winner of the Platt's Global Metal Distributor of the Year award, a finalist in 2014, 2015 and 2016 for the Service Center of the Year award from American Metal Market (AMM), a finalist in 2016 for the Advocate of the Year award from AMM, a 2016 finalist for the Most Valuable Employer For Military by CivilianJobs, a 2015 winner of a Rochester Top Workplaces award, a 2015 Rochester Top 100 company, a 2012 recipient of the Rochester Business Ethics Award, and winner of the Industry Week Best Plants award in 2011.
About KASTO
For over 40 years KASTO, Inc. has been the United States subsidiary to a German based, multi-generationally owned/operated company for over 170 years, the KASTO name is the internationally-known market leader for metal cutting saws and automated storage & retrieval systems. The expertise in manufacturing and sales of Band Saws, Circular Saws, Plate and Block Saws, and Hacksaws makes KASTO the ideal partner for all metal cutting applications. KASTO, Inc. maintains one of the largest spare parts inventory in the industry with over 10,000 items on hand to meet our clients' demands. In addition to saws, KASTO's Automated Storage and Retrieval Systems for linear products, sheet metal and plates, together with combined systems for storing and sawing products, are an important part of its worldwide leadership role.