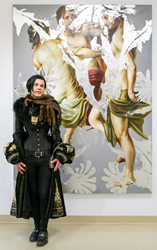 Santa Fe, NM (PRWEB) March 30, 2016
David Richard Gallery invites the creatively-minded of Santa Fe to experience the show, get inspired, go home and devise and design clothing and textile works in the spirit of exuberance and extravagance. OTT (over the top) efforts are highly encouraged and two categories will be assigned: "Pret-a-porter" (wear if you dare) and "Couture" (high art). Entries for the "Couture" category need not be wearable but should express a creative approach to fiber or textile art. The best and most creative submissions in both categories will be presented in the gallery during the last two weeks of the "New Baroque" exhibition.
The public opening and event will be held on Saturday, April 23rd, 2016, from 4:00 to 6:00 pm. Artists and designers will speak to the audience about their work and a runway presentation will be held. Amy Shea, Executive Director Santa Fe Street Fashion Week, will emcee the event. The best in the two categories will be chosen by audience ballot and the winners will be the recipients of the coveted "David" award for "Couture"/Art and the Richard award for ready-to-wear.
The gallery teams up with social media gurus @SimplySantaFeNM to host another Instagram-based photography competition, with a new twist and edge. Photographers, professional and amateur, are also invited on Saturday April 23, 2016 to document the event from start to finish and must post their individual images on Instagram to compete using #GoForBaroque. The competition will be based on artists submissions of 4 to 10 of their images assembled as a storyboard reflecting their personal experience and interpretation of some aspect of the afternoon's activities. The top five storyboards will also be chosen by ballot and the winner (and recipient of the equally-coveted "DR" award) announced at the closing party co-hosted by the competition's collaborators, @SimplySantaFeNM on May 7
To further provide greater exposure for all participating photographers, permission will be requested for artists and designers to use these images for professional purposes and acknowledge the respective photographer in the credit line. Images from the finalists and winner will also be posted on the gallery's Instagram and Facebook pages.
Deadline for submission of fashions: April 11th, 2016.
Submission requirements: Hi-res jpegs (minimum 300 dpi) along with detailed description of work submitted (dimensions, materials, etc).
Send to: Howard Rutkowski, h(at)davidrichardgallery(dot)com. +1 505 983 9555
Exhibition dates: April 23- May 7, 2016
About the exhibition
"New Baroque: The Imperfect Pearl"
Monte Coleman, Chris Collins, Laila Farcas-Ionescu, Angela Fraleigh, Erik Gellert, Catherine Howe, Ted Pim, Vadim Stepanov
The style we know as 'Baroque' originated early in the 17th century and remained the dominant mode of expression throughout the Western world for more than 100 years. Characterized by high drama, tension, and exuberance, it offered a vehicle of expression for art, architecture and music that had a visual appeal easily grasped by all. It was an Over The Top style that allowed for the grand gesture and possessed an ability to convey dynamic movement and energy in both formal and narrative terms.
"In many ways it was 'action painting' long before the Abstract Expressionists appeared on the scene," says gallery co-director David Eichholtz. "Artists of the Baroque era sought to capture motion, to freeze frame the action. The artists in New Baroque are channeling that spirit and energy."
The etymology of 'Baroque' is said to derive from the Portuguese 'perola barroco' – an imperfect pearl. These pearls are prized for the unique beauty in their imperfection. So, too, with art. The Golden Mean is boring. Excess is exciting. As Oscar Wilde wrote: 'Moderation is a fatal thing. Enough is as bad as meal. More than enough is as good as a feast.' Let us then feast.
About @SimplySantaFeNM:
@SimplySantaFeNM is a signature photo sharing project created and curated by Simply Social Media. The mission of #SimplySantaFe is to promote local photographers, businesses, and events in Santa Fe, NM. Their Instagram gallery is filled with images that they feel reflect the unique beauty and opportunities that Santa Fe has to offer. By featuring images taken by other Instagrammers, they are collaboratively building community both in the virtual and real world. In addition to social media promotion, they also create unique social media events and photo contests for local businesses and organizations, furthering their mission of building community.
About David Richard Gallery:
David Richard Gallery is located at 1570 Pacheco Street, Suite A1, Santa Fe, NM 87505, P: 505-983-9555. Since its inception the gallery has produced museum quality exhibitions that feature Post War abstraction in the US. The presentations have addressed specific decades and geographies as well as certain movements and tendencies. While the gallery has long been recognized as an important proponent of post-1960s abstraction—including both the influential pioneers as well as a younger generation of practitioners in this field— in keeping with this spirit of nurture and development the gallery presents established and very new artists who embrace more gestural and representational approaches to the making of art as well as young emerging artists.
In 2015 David Richard Gallery launched DR Projects to provide a platform for artists of all stripes—international, national, local, emerging and established—to present special solo projects or to participate in unique collaborations or thematic exhibitions. The goal is to offer a fresh look at contemporary art practice from a broad spectrum of artists and presentations.