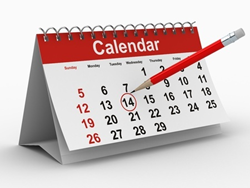 We're very excited to add this to our menu of services for small and medium businesses
San Francisco, California (PRWEB) April 01, 2016
Conversational, a virtual receptionist and support service provider, recently announced the inclusion of booking and appointment services to their Starter, Business, and Enterprise level packages.
The addition is expected to appeal to a broader client base, including real estate agents, medical practices, law firms, sales teams, and small businesses that take and book appointments.
The announcement comes hot on the heels of Conversational's recent launch of live chat support for law firms, a major sector of their client base. The addition is part of a company-wide strategic push to offer a complete support service package to new and existing clients.
Adding appointment and booking services was a natural progression for the company. Conversational CEO Tanya Lamont notes, "Our clients have inquired about appointment-setting services many times over the years, so we knew it would be warmly received. We're very excited to add this to our menu of services for small and medium businesses."
The new booking and appointment services are offered to Conversational clients who select the Starter, Business, or Enterprise level call answering packages.
The plans offer varying levels of support that are designed to appeal to small and medium businesses, from 100 minutes of call time each month on the Starter plan to 500 minutes each month on the Enterprise plan. All packages include email delivery of messages and voicemails, warm call transfers, unlimited talk time after transfer, and now bookings and appointments.
A recent study by Conversational compared the appointment accuracy and volume of "no-shows" of clients using the company's appointment services to the client's previous accuracy and no-show volume.
The results showed that inclusion of the appointment booking services reduced no-shows by up to 75%. The dramatic decrease in no-shows is attributed to Conversational's practice of confirming appointments and sending appointment reminders.
For more information about Conversational, please visit:
https://www.conversational.com
For Media Inquiries, please contact:
Conversational
(855) 933-3826