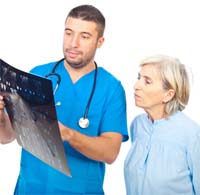 In our cohort, there was no evidence of diaphragmatic invasion in over 30% of patients....
Raleigh, NC (PRWEB) April 01, 2016
Scientists in the UK and Italy have released new findings suggesting that the practice of removing a portion of the diaphragm during radical mesothelioma surgery may not have much of an impact on mesothelioma survival. Surviving Mesothelioma has just posted an article on the findings. Click here to read it now.
Doctors at University Hospitals Leicester in Leicester, England, evaluated the cases of 314 mesothelioma patients who had either lung-removing or lung-sparing radical surgery, both of which involve removing a portion of the diaphragm.
"In our cohort, there was no evidence of diaphragmatic invasion in over 30% of patients, and we have also failed to find evidence that peritoneal disease progression affects overall survival following radical management," writes study author and cardiothoracic surgeon Dr. Annabel Sharkey.
In other words, even mesothelioma patients whose disease had spread to their diaphragms did not have a shorter survival than those with no sign of mesothelioma on their diaphragm tissue.
"Although every mesothelioma case is unique, this study opens the door to consider a form of radical mesothelioma surgery which may be less difficult for both the patient and the surgeon," observes Alex Strauss, Managing Editor of Surviving Mesothelioma.
The details of the full study can be found in an article titled Study Questions Diaphragm Resection in Mesothelioma Surgery, which is now available on the Surviving Mesothelioma website.
Sharkey, AJ, et al, "The management of the diaphragm during radical surgery for malignant pleural mesothelioma", March 22, 2016, "European Journal of Cardiothoracic Surgery, Epub ahead of print, https://www.ncbi.nlm.nih.gov/pubmed/27005974
For nearly ten years, Surviving Mesothelioma has brought readers the most important and ground-breaking news on the causes, diagnosis and treatment of mesothelioma. All Surviving Mesothelioma news is gathered and reported directly from the peer-reviewed medical literature. Written for patients and their loved ones, Surviving Mesothelioma news helps families make more informed decisions.