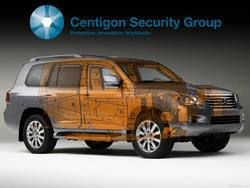 Our brand transformation represents where the company is today and our expanding vision of a comprehensive suite of mobile security solutions for the road ahead
(PRWEB) April 01, 2016
The Carat Security Group, a leading provider of armored mobile security solutions for over 60 years, announces a significant step in the expansion of their global brand announcing the company will now operate as the CENTIGON SECURITY GROUP; Centigon is a brand many of the Carat Security Group's current operating divisions have been operating under for years.
The rich legacy of Centigon, which includes the Carat Security Group as well as such well-known brands as:

Sayers & Scovill
O'Gara
Hess & Eisenhardt
Labbé
Trasco
has stood for quality and innovation for over 130 years in coachbuilding and more than 60 years in armored vehicle solutions. In order to reach a growing international audience and more accurately represent the full scale of its expanding operations, all divisions within the Group will now operate under the new umbrella of the CENTIGON SECURITY GROUP.
New to the brand, but representative of long-standing operations are Centigon VIP, the home of exclusive armored vehicles of exceptional quality and refinement and Centigon CIT, the dedicated division of cash-in-transit solutions for corporations across the globe. The group has also expanded to create Centigon Defense, the tactical solution division and Centigon Glass, the group's transparent armor manufacturing division.
The brand change goes into effect immediately and affects clients in more than 50 countries across the globe and five (5) manufacturing facilities in France, Colombia, Venezuela, Mexico and China.
About the Centigon Security Group:
The Centigon Security Group is an industry leader in mobile security, operating five factories on four continents, producing world-class armored vehicles and security-related products for corporate and governmental agencies. As a trusted worldwide partner, the Group showcases long-lasting relationships with major OEMs and expanding operations that include electronic and ballistic glass solutions.
The Centigon Security Group incorporates four specialist divisions as follows:
Centigon VIP -- Premier VIP and head of state armored vehicle solutions worldwide. Headquartered in France, Centigon VIP includes superior solutions based on platforms including Rolls Royce, Bentley, Maybach and Mercedes Benz.
Centigon CIT -- Specialists in high-volume cash-in-transit vehicles, Centigon CIT is world-renowned for cutting edge research and development, along with a strong reputation for independently certified armor solutions; a name trusted by governmental and corporate entities across the globe.
Centigon Defense -- Advanced military solutions including tactical and armored personnel carriers, riot control vehicles, up-armor kits and military truck cabins. Centigon Defense solutions merge the Group's commercial expertise and advanced research capabilities to produce world-class military defense vehicles.
Centigon Glass -- World-class transparent armor solutions for a variety of applications, including delivery in many Centigon vehicles and sale to corporations across the globe. Centigon Glass is a pioneer in optically superior glass with a best in class guarantee of quality.
Please note all current Carat Security employee and company contact information including telephone numbers, email addresses, facsimile numbers etc. remain unchanged.