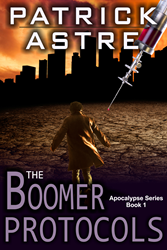 The clock is ticking...
Shrewsbury, Pennsylvania (PRWEB) March 31, 2016
ePublishing Works! announces THE BOOMER PROTOCOLS by Patrick Astre, available in paperback (978-1-61417-828-6, 316 pages, $17.99 USD) and eBook format (978-1-61417-825-5, $4.99 USD).
GENRE:
Fiction, Science Fiction, Apocalyptic & Post-Apocalyptic
Fiction, Thrillers, Suspense
THE STORY:
The clock is ticking down to a pandemic outbreak as an ancient cabal unveils an age-reducing miracle drug secretly rooted in a deadly formula created at the Dachau concentration camp.
Only one person who can end the coming mass murder: a child of the cabal, a desperate Baby Boomer suffering from the same immortality that the cabal needs to survive.
A suspense filled apocalyptic thriller that won't let you go!
Read an excerpt from the book by clicking here.
THE APOCALYPSE SERIES, in order
The Boomer Protocols
Cold Fusion
Sylvans
The Devil's Caldera
Discover the entire series by clicking here.
WHAT READERS ARE SAYING:
"...a fabulous tale, a complex apocalyptic adventure..." --Amazon Reader
"To say this is a suspense filled book is an understatement." --Laura Furuta
"Like a runaway train from page one." --Lita (Amazon)
"A doomsday, apocalyptic thriller with an unusual twist." --Lane (eBook Discovery Reviewer)
MEET PATRICK ASTRE:
Author Patrick Astre served in the US Army Infantry, stationed in Germany during the height of the Cold War. Rising to the rank of Sergeant E-5, Astre finished his last year of service as a Drill Instructor at Fort Benning, Georgia.
Patrick lives and works in Suffolk County, NY and is a Principal with Astre Planning Associates, proving that not all accountants are boring.
Discover and Purchase this and other titles from PATRICK ASTRE by clicking here.
THE BOOMER PROTOCOLS is available through online retailers, booksellers, subscription services and public libraries everywhere.
Wholesale buyers may order through Ingram or Baker & Taylor with return privileges.
ABOUT EPUBLISHING WORKS:
ePublishing Works! is a next generation digital print, audio and ebook publisher for career-minded authors who want to focus on their passion: writing great stories. From digital file preparation, cover design, sales copy, promotion and distribution, to royalty payment, ePublishing Works takes care of business while authors enjoy the freedom to write. For more information and submission guidelines visit us at http://www.epublishingworks.com or click here to request information.