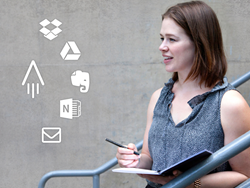 I no longer have to hand out and collect assignments when we use the Rocketbook Wave and our school saves printing and paper expenses because the notebooks are reusable
DANBURY, CT (PRWEB) April 01, 2016
At Westside Middle School Academy, math teacher Maggie Robbins' 6th grade students have grown up around computers, iPads and smartphones, but for math and science work, nothing beats traditional pen and paper. So when Ms. Robbins discovered the Rocketbook Wave, she immediately saw how it would save her time and save her school money, and it turned out to be a hit with students, too.
With the Rocketbook Wave, Ms. Robbins no longer needs to print and hand out paper assignments to students. Instead, she sends assignments to students through Google Classroom, and they complete their work in their Rocketbook Wave notebooks, writing with traditional pen and paper, making sure to show their math work as always. When they're done, there are no papers to hand in. Students scan the pages of their notebooks with the Rocketbook app which automatically submits their work back into the class's Google Classroom space, where Ms. Robbins grades them.
"I no longer have to hand out and collect assignments when we use the Rocketbook Wave and our school saves printing and paper expenses because the notebooks are reusable," said Robbins.
The Rocketbook Wave can be reused 5-10 times. Each notebook comes with Pilot FriXion pens, which contain special heat-sensitive ink that turns clear at 140 degrees Fahrenheit. The eraser on the pen generates enough heat to turn the ink clear, so the innovative pens erase even better than pencils - perfect for schoolwork.
The patent-pending Rocketbook Wave notebook is specially constructed to be microwave safe. After students scan and submit their work to Ms. Robbins, they simply pop their notebooks in the microwave to erase and reuse them.
"The kids are so pumped about Rocketbook," added Robbins. "It solves a real problem for us. Everyone is trying to go paperless, but there is no good way to use a tablet or computer for math work. Math is all about equations, visualizations, showing the process of your work, and that means paper and pen. With Rocketbook, the students send me their [handwritten] work that is organized in a google classroom folder. I review their work in their own handwriting and I can see their thought process and see if they understand. Finally I can go digital and reduce the
amount of copies I make for class."
The Rocketbook system bridges the world of traditional pen and paper with the digital world. Rocketbook notebook pages are scanned by the Rocketbook app for iOS and Android, processed for quality, and then sent to popular services like email, Google Docs, Evernote and Dropbox, all perfectly organized.
"At first the microwaveable part got my students excited. They all rushed home to erase their notes in the microwave – but now they love the functionality of the notebook and the efficiency and flexibility of being able to write, then digitize their notes and then share," explains Robbins. "The school saves paper costs, while teachers and students save precious time. I love the way it enhances the learning experience for kids who have grown up with everything digital, but now they truly benefit from working through math problems with pen and paper."
Rocketbook Co-Founder Joe Lemay adds: "Math and science were always my favorite subject, and when I think back on the big influences on my life, several math and science teachers stand out. Now to hear that we've built something that other math and science teachers love, and that students find fun, well, I couldn't ask for anything more rewarding."
About Rocketbook Wave:
With technology and engineering backgrounds, company co-founders Joe Lemay and Jake Epstein created Rocketbook Wave, which comes in two sizes; standard and the more compact Executive. Rocketbook Wave is available for pre-sale at GetRocketbook.com.
About Westside Middle School Academy
Through an inquiry and project-based approach to instruction, Westside Middle School Academy increases student achievement and engagement. Westside develops the knowledge, attitudes and values in all children to enable them to live productive, self-fulfilling lives and engage in responsible citizenship in an ever-changing global society.