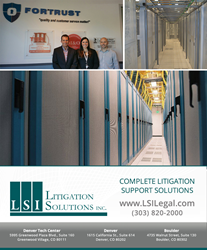 Denver, Colorado (PRWEB) March 31, 2016
Litigation Solutions Inc. (LSI), a full-service litigation solutions company, announced today that is has chosen FORTRUST to help bolster the security of its client data. FORTRUST is a leading data center and colocation services provider. The experienced professionals at LSI match problems with the appropriate technological solution, helping to streamline the litigation process. LSI vetted several data centers in Colorado and decided on FORTUST, whose security and reliability is unparalleled in the region.
Protecting client data should not be left to chance; it's important to know where data resides. When data is not stored at a secure and reputable data center, the policies, processes, servers and infrastructure are more vulnerable. "As data hacking and privacy concerns rise in the legal industry, we made a strategic decision to mitigate our clients' risk by collocating at FORTRUST, a highly secure data center," states Michael Lopez, president at Litigation Solutions Inc. "We are very happy with our decision to partner with FORTRUST, whose 100 percent uptime guarantee and physical infrastructure provides us with confidence that our client data is as secure as technologically possible."
"Many companies seeking to mitigate their risk at the data center level have made FORTRUST their top choice," says Josh Moody, senior vice president of sales and marketing at FORTRUST. "We are honored that LSI has chosen FORTRUST to provide them with highly secure data center services."
To learn more about Litigation Solutions Inc. litigation solutions, visit http://www.LSILegal.com or call (303) 820-2000.
About Litigation Solutions Inc.
Litigation Solutions Inc. (LSI) is a full service litigation support company offering a complete range of solutions by a professional staff. We assist clients with their electronic discovery needs from data collection and analysis of phones, tablets, desktop and laptop devices through document review and production. We process and convert data to TIFF or leave it in a native file format for review in one of our web-based review tools.
From the time your case is filed to the time it goes to trial, LSI is fully equipped to deliver the right solution at the right time. With more than 15 years serving the legal industry, LSI will meet and exceed your requirements at every stage in the life of your case.
About FORTRUST
FORTRUST is one of the most progressive high-availability data center services providers in North America, serving clients across the globe who depend on colocation services for a critical lifeline of their business. FORTRUST Denver is the largest data center in the region with over 300,000 square feet and 34 megawatts of data center capacity. FORTRUST offers agile, reliable, sustainable and secure raised floor and modular data center capacity for any-size enterprise supported by optimal power infrastructure and connectivity to safeguard mission-critical business services. In addition to the national headquarters in Denver, FORTRUST has data center locations in Phoenix, Arizona and Edison, New Jersey. http://www.ftdc.com.