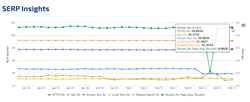 Track global trends... observe SERP features by country...
New York, NY (PRWEB) April 04, 2016
Country-Specific Search Intelligence
The Google SERP Features Search Intelligence tool, which optimizes Rank Ranger's 500K Dataset, supplies insight via trend analysis of those Google features that improve upon user experience in relation to search engine results. As a free source of country-specific research data, the Google SERP Features Search Intelligence tool can easily be employed to measure and investigate the existence and trending of Knowledge Graphs, Ads and their position, Images, Local Pack, News Pack, Related Search and Organic Results counts. It can further be employed in the benchmarking of special organic page one indicators such as breadcrumbs, events, HTTPs, ratings, notable online, image and video thumbnails, search box, sitelinks, Twitter pack, etc.
Comparison of SERP Features by Country
Analysts seeking to track global trends and wanting to observe SERP features by country, have the option of employing the Google SERP Features Global Search Intelligence tool to examine and analyze the presence of:

Page One Extras: Ads, Related Search and Image, News and Local Packs served by Google to different world markets.
Knowledge Panel, Featured Snippet, Answer Box and Carousels
Page One Organic Results Count
Organic Indicators: HTTPS, SiteLinks, Ratings, Image and Video Thumbnails, Events, Breadcrumbs, Notable Online, Search Box and Twitter feed
Founded in 2009, Rank Ranger offers a wide range of software features and development services designed to standardize management and reporting for the digital marketing world by filling the need for a comprehensive online marketing platform capable of tracking & monitoring campaign data, integrated with 3rd party software and services, providing fully personalized and customized reporting, 100% white label automated reports and a branded web interface.
###
The names of actual companies and products mentioned herein may be the trademarks of their respective owners.
For more information, press only:
Laura Campbell
editor(at)rankranger(dot)com
For more information on Rank Ranger's Google SERP Features tools visit: https://www.rankranger.com/google-serp-features