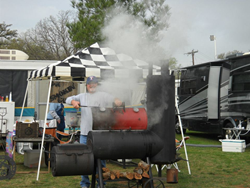 (PRWEB) April 01, 2016
Ocean Canyon Properties (OCP), a privately owned RV membership camping resort company, is excited to announce the 10th annual Tolbert Chili and Barbecue Cook-Off at Tres Rios RV Resort in Glen Rose, Texas. The event benefits the American Cancer Society. The weekend, taking place April 15th and 16th, is produced by the Johnson County Relay for Life, composed of teachers and administrators from the Alvarado School District in central Texas.
Beginning the weekend of food and fun on Friday night is an appetizer and beverage competition. The Chili Cook-off continues on Saturday, featuring main dishes from multiple categories. Submissions include barbecue, salsa, beans, Dutch oven bread, a Dutch oven open entry, fruit dessert, pork ribs, chicken, pork butt and brisket. The first of its kind in the area, the cook-off attracts dozens of cooks and families, looking to get in on the fun, and show off their cooking prowess.
In 2015, the contest hosted 78 individual cooks in 36 different cooking teams, and raised $13,900 for the American Cancer Society. There were 276 total food entries, 38 being chili entries. Cooks come from all over Texas and the South, with some cooks coming from as far away as Colorado. Ten cooks have participated in every cook-off since its inception. The chili portion of the cook-off is sanctioned through the Central Texas Tolbert Chili Group. The first place winning team receives an invitation to compete in the grand cook-off in Terlingua, Texas, which is held on first weekend of November.
"This is our 10th and final year. As the years progressed, we set a goal to host the event for 10 years, and this is it! Over the last nine years, we have had rain, snow, 30 mph winds, and a many beautiful weekends. Tres Rios has been an AWESOME facility to hold the event over the last nine years!" said Lori Nunez, event coordinator and teacher.
At the end of the event, select dishes will be served to the public. For more information, visit our website at http://www.tresriosrvpark.com or call (254) 221-0018. All proceeds from the Chili Cook-off will be donated to the American Cancer Society.
"We welcome the Johnson County Relay for Life Tolbert Chili and Barbecue Cook-Off at Tres Rios RV Resort, for the tenth and final year. The event is exciting for contestants and attendees alike and has been a very successful fund raising event for the American Cancer Society. Ocean Canyon Properties is proud to work with Lori Nunez and her fantastic team that benefits such a wonderful cause. Not only is there great food and fun, but the many cancer survivors that participate in the event are inspirational," said Peter Graffman, Executive Vice President of Ocean Canyon Properties.
Nestled amongst native Texas pecan and oak trees on 47 spacious acres, Tres Rios RV Resort is named for the three Texas rivers that converge on the resort's southern point — the Brazos River, the Paluxy River, and Squaw Creek. It is one of eight resorts in the Ocean Canyon private RV membership resort system, which also includes Styx River Resort in Robertsdale, AL, Millwood Landing Golf and RV Resort in Ashdown, AR, Abita Springs Resort in Abita Springs, LA, Mountain Lakes Resort in Langston, AL, Texoma Shores Resort in Madill, OK, Compton Ridge Campground and Branson Ridge Campground in Branson, MO.
About Ocean Canyon Properties
Ocean Canyon Properties is a growing system of privately owned, membership resorts that offer spacious RV campsites, comfortable vacation cabins, cottages and condos along with a wide variety of private resort amenities. With beautiful resort locations situated throughout the southern United States, OCP RV resorts provide the safe, secure and enjoyable recreational experience that so many families seek.
The Ocean Canyon Properties senior management has been directly involved in the membership camping resort industry on a national platform for over 30 years. This experience, combined with the rigorous standards of operation at both the resort and corporate levels ensure that the company operates securely, responsibly and continually provides the highest levels of service to its members, their guests and employees. Ocean Canyon is active in supporting community organizations that help children and families in the Southeast. You can find out more at their website at http://www.oceancanyon.com.