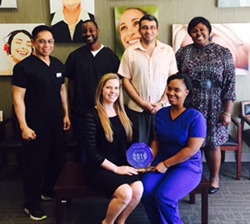 We're committed to providing quality compassionate dental care to our patients, and it's an honor to receive this award.
Tampa, FL (PRWEB) March 31, 2016
Coast Dental Largo is the proud recipient of the "2016 Best of Largo" award in the Family Dental Services category. The honor was bestowed by the Largo Award Program this month.
Coast Dental Largo offers preventive and restorative general dentistry services such as exams and cleanings, fillings, crowns, bridges, dentures, dental implant restorations, teeth whitening and pain relief. It also offers braces and other types of orthodontic treatment to straighten teeth. The dental office is located at 10427 Ulmerton Road, Suite B-3, in Largo. The phone number is (727) 535-9993.
General dentists Dr. Olaifa (Lovey) Turner and Dr. Amir Boules received their Doctor of Dental Medicine degrees from University of Pittsburgh School of Dental Medicine. Both believe a visit to the dentist office should be as pleasant and stress-free as possible. They take their time to get to know their patients and create customized treatment plans to address each person's unique dental needs.
"We're committed to providing quality compassionate dental care to our patients, and it's an honor to receive this award," said Dr. Turner.
Orthodontist Dr. James Nguyen is the newest member of the Coast Dental Largo team. He specializes in early orthodontic treatment for elementary school-aged children, braces for teenagers, and invisible aligners for adults. The Largo team's goal is to make it as convenient as possible for families to receive the dental care they need to have a beautiful and healthy smile.
Each year, the Largo Award Program identifies companies it believes has enhanced the positive image of small businesses through services to their customers and their community. Various sources of information were gathered and analyzed to choose the winners in each category. The winners were determined based on information gathered both internally by the Largo Award Program and data provided by third parties.
# # #
About Coast Dental
Coast Florida P.A., or Coast Dental, P.A., with its affiliated professional associations, is one of the largest providers of general and specialty care in the United States with affiliated practices operating as Coast Dental and SmileCare in Florida, Georgia, California, Nevada and Texas. Coast Dental Services, LLC is a privately-held practice management company that provides comprehensive, non-clinical business and administrative services to its affiliated practices. The company is headquartered in Tampa, Florida. For more information, visit CoastDental.com.