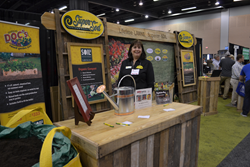 Most of the new booth was hand made by their creative employees.
Atlanta, Georgia (PRWEB) March 31, 2016
This winter and spring, a team of Super-Sod employees and associates designed and built their new home and garden show booth for use by the 13 Super-Sod stores. In March, they started rolling out the new booth and debuted it at the Atlanta Home Show at the Cobb Galleria. In the following months, other stores will premiere the new booth at 35 shows across Super-Sod's distribution range of Georgia, North Carolina, South Carolina, and Jacksonville, Florida.
Their new booth is special for several reasons.
First reason is that it was designed by a team of Super-Sod employees consisting of Chris Roquemore, Melissa and Brian Ramey, and Hillary Thompson. Outside graphic design assistance was sought from Harold Riddle of Redshed Creative Co. out of Perry, Georgia, and Dale Georgia of Happy Dog Studios, Inc. out of Fayetteville, Georgia.
Another aspect is that most of the new booth was also hand made by their creative employees. Chris Roquemore, the grass seed plant manager, is a passionate woodworker. He designed and constructed the pallet furniture and pallet backdrop prototypes and his employee Will Baker replicated them for the eight sets of booths the company requires to meet their busy show schedule. Melissa and Brian Ramey created the wood logos, poster frames, and pine header board. Melissa is the wife of farm manager Brian Ramey and she's an ardent crafter, skilled with the router that she's set up in her dining room-turned-shop. She routed and painted the logos and the header board while Brian created the poster frames and took over the behind-the-booth details of making it all fit together right - the unseen, but crucial details that make the booth "just so."
And finally, much of the material was either locally sourced or is recycled.
-Recycled wood pallets comprise the furniture and pallet backdrop;
-The wood for the pine header board and pine wood poster frames came from Triple A Sawing in Cochran, Georgia;
-The FLOR modular carpet came from FLOR's mill in LaGrange, Georgia. FLOR's carpet is made from 70% recycled material and their carpet is fully recyclable if sent back to their factory;
-Super-Sod's featured product, Soil3 organic compost, sold in a BigYellowBag, is made from composted (recycled) grass clippings from their sod production, wheat stubble from their farm, and manure from a local dairy;
-Posters and pull-up floor banners were printed by Dale Georgia of Happy Dog Studios, Inc., located in Fayetteville, Georgia. Full Disclosure: Sod backdrop & Show Special flag are printed in China, simply because Happy Dog Studio doesn't print that material.
-Super-Sod's paper handouts are printed by Colson Printing in Valdosta, Georgia.
Super-Sod is a family-run business that employs experts in turf and horticulture. Focusing their sod and compost business in the Southeast, they sell sod by the individual roll, full pallet, or truckload. It's available for delivery or pick-up fresh from their farms to landscapers and directly to DIY homeowners. One of their most popular products has been their OMRI Listed Soil3 organic compost, delivered in a cubic yard BigYellowBag, which they make partially from composted grass clippings from their sod production. Super-Sod continues to develop new garden products, foster gardening and landscaping, and always seeks to improve their farming practices, technology, environmental stewardship, and employee knowledge.