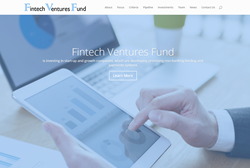 Atlanta, Georgia (PRWEB) April 05, 2016
Hard at work, Black Bear Design announces the launch of four new custom websites. As a top-ranking full-service design agency, Black Bear was recently listed on Clutch's Top Atlanta Web Design Firms for 2016, with each launching within the last two months. The agency's most recent work includes:
VELO SOLAR
Velo Solar is a commercial solar panel, LED and smart-grid software company. Having worked with Black Bear on several print and digital design concepts in the past, they looked to the team to create a dynamic, robust, user-friendly site to reflect the next generation of the company. The new website provides a fully comprehensive overview of the options and products offered, including a review of how solar energy can impact your bottom line, the benefits of LED lighting, the ever-current PowerEnfo software, and also a thorough review of case studies and project insights. http://www.velosolar.com
FINTECH VENTURES
Fintech Ventures is primarily concerned with investments in technology-enabled financial services companies. They focus particularly on start-up and growth businesses. Fintech wanted to retain the simplicity of their past site, while updating the look and enhancing the user experience through smarter navigation and an in-depth look into the investment process and pipeline. The new site's layout aesthetically reflects the gravity and professionalism of their approach, as well as the reliability of their methods. http://www.fintechv.com
BRAND MORTGAGE
Brand Mortgage is a full-service lender that offers a suite of mortgage financing options. BrandMortgage is an industry leader, and they turned to Black Bear to bring their website up to their unmatched standard. The new site explores each of their loan offerings, a complete directory of locations and mortgage bankers, and includes infographics and custom icon work. The site was designed in accordance with current brand guidelines, but revitalized with simpler, more impacting visuals and smarter navigation. http://www.brandmortgage.com
SUN STEEL, LLC
Sun Steel, LLC produces fabricated steel frames that fit anything from conventional commercial structures to more complex and customized developments. Their new website places an emphasis on their latest projects so that their capabilities are immediately featured. Their designs and services are also highly featured and well-categorized for easy access. http://www.sunsteelllc.com
ABOUT BLACK BEAR DESIGN
For more than a decade, Black Bear Design has been delivering stunning graphic design, corporate identity, web design and development of websites for a wide range of B2B and B2C clients. Black Bear's design and marketing expertise spans all aspects of online business, including e-commerce, retail, manufacturing, communications, professional services, real estate, mortgage and non-profit industries.
Black Bear Design offers multiple graphic and web marketing services, including website design/redesign, search engine optimization (SEO), retained services, marketing automation, ongoing web maintenance, pay-per-click (PPC) marketing, brand development, print design, and much more. To find out more about Black Bear Design, visit http://www.blackbeardesign.com.