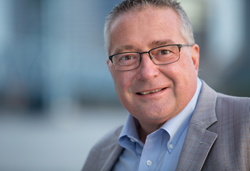 randrr's free jobs app will be a destination technology that will create meaningful relationships between people and companies.
Findlay, Ohio (PRWEB) April 04, 2016
Entrepreneur and accomplished talent acquisition leader Terry Terhark today proudly announces the launch of randrr, a free jobs app for the common good that will revolutionize the way people and companies interact.
In launching randrr, Terhark brings more than 30 years of experience in the talent acquisition industry and his proven record for building and growing successful recruiting technology businesses. He has an aggressive plan for randrr to hire more than 200 employees by 2018 and will invest more than $9 million in capital expenses over the first four years, which does not include salaries and benefits.
Terhark has closely observed the experiences of job seekers and researched recruiting processes for the past three decades. He was inspired to create a more engaging and effective jobs platform after witnessing his daughter's frustrations with online job boards and recruiting technology. Like many job seekers, his daughter, a college graduate who is very technologically savvy, felt uninformed during her job search and disconnected from the companies doing the hiring.
"The simple truth is that jobs boards don't care," Terhark said. "randrr's platform will be a destination technology that will create meaningful relationships between people and companies."
Market research by randrr reveals major shortcomings with existing HR recruiting technologies, which randrr spells out in its Lightpaper® "Work for the Common Good." Some typical job search frustrations identified include:

Marketability: How do candidates know if they're looking for jobs in the right location? In the right industry? Or even in the right pay grade?
Time: The job search process can be a long and drawn-out ordeal.
Effort: Searching for jobs is a job in and of itself.
Access: Candidates only being able to conduct a job search from their desktop greatly hinders the amount of time they can spend applying.
Ambiguity: Candidates not knowing where they are in the application process can create unnecessary stress and disorientation.
Relationship: Candidates can feel disconnected from companies.
Stagnation: Job searches have gone from paper resumes getting lost in stacks of paper to digital resumes getting lost in an email inbox.
A recognized leader in the talent acquisition field, Terhark has founded and grown several highly successful enterprise technology brands. Terry leverages his wealth of industry expertise and strategic vision to build successful businesses that increase opportunity for all.
Terry founded Selective Staffing Inc. and sold it to Aon in 1998. In 2003, he founded The RightThing and sold it to ADP in 2011.
Prior to founding randrr, Terry served as president of ADP Talent Acquisition Solutions, leading 1,000 ADP associates across the globe to ensure that clients benefited from HCM services, including RPO, background checks, applicant tracking technology, I-9 verification, and AIRS.
randrr will have offices in Findlay, Ohio (where Terhark started and built two other companies), and in Jacksonville, Fla. Terhark wants to bring well-paid software technology jobs to the Toledo area and to Jacksonville, Fla., where he believes a well-educated workforce is prime for his tech needs. randrr will also provide fully paid benefits and unlimited paid time off, along with a culture that will be the most desirable in the industry. At randrr, the team will work together for the common good, because that which benefits the most people is best for everyone.
"Our jobs app is going to be all about jobs and creating greater opportunity," Terhark said. "It's quite fitting that randrr is doing its part by creating software technology jobs in two great communities."
About randrr
randrr is creating a free jobs app for the common good of people and companies. randrr will provide people with transparency into the companies they love in a way that can't be achieved through job boards. At the same time, randrr will provide companies the ability to cultivate a fan base of active and passive candidates, so every connection will be based on mutual admiration. As a result, randrr will increase opportunities for everyone — whether they are in the business of giving or getting jobs — creating better lives, stronger workforces, and a more productive society.