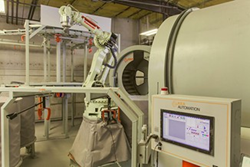 All too often, companies are uncertain about when to changes casting suppliers, and as a result, they receive less than optimal quality, service and value
Lebanon, PA (PRWEB) April 01, 2016
Pennsylvania Precision Cast Parts (PPCP), an industry-leading investment casting company located in Lebanon, Pa., has released its list of Seven Critical Factors for Determining When to Change Investment Casting Foundries. PPCP's recommendations focus on the factors that have the greatest impact on a customer's operation.
"All too often, companies are uncertain about when to change casting suppliers, and as a result, they receive less than optimal quality, service and value," says Andrew Miller, President and CEO of PPCP. "The guidelines we are providing can help in the decision-making process."
According to PPCP, there are no firm metrics that apply to all companies and situations, but the factors are clearly definable. The Seven Critical Factors for Determining When to Change Investment Casting Foundries are:

On-Time Delivery – is your foundry consistently delivering your castings on time?
Quality – are you returning an unacceptable percentage of substandard parts?
Customer Service – is your foundry's service highly responsive, proactive and accessible?
Order Fulfillment – are you getting full orders of quality castings every time?
Lead Times – does the time period from order to delivery fit your requirements?
Pricing – are your foundry's prices competitive and commensurate with the quality of the castings?
Expediting Orders – is your foundry willing to fast-track orders when necessary to meet your special needs?
"A foundry needs effective quality and production systems to ensure that these factors are favorable," says Miller. "That's essential to delivering what they promise their customers. At PPCP, it's a top priority for us."
Company Information - Pennsylvania Precision Cast Parts (PPCP) is an industry-leading manufacturer of top-quality investment castings for a broad range of parts, industries and applications. PPCP has the experience, technical expertise and quality-assurance processes necessary to consistently and reliably deliver castings up to 250 pounds in an extensive array of alloys, from steel and aluminum to highly specialized materials. Located in Lebanon, PA., PPCP has two fully equipped facilities, cutting-edge equipment and technology, advanced processes and one of the most experienced teams in the industry. PPCP delivers investment casting excellence through exceptional People, Process and Performance.