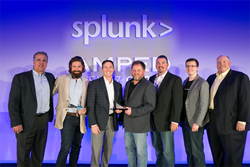 HANOVER, MD (PRWEB) March 31, 2016
ClearShark today announced it has received the Splunk Public Sector Partner of the Year for exceptional performance and commitment to Splunk's Partner+ Program. The Public Sector Partner of the Year Award recognizes a Splunk Public Sector partner who has performed at the top level, exhibited remarkable year-over-year growth, and demonstrated its commitment to the partnership by expanding its workforce and investing in Splunk education for its engineering and sales teams. Learn more about Splunk's Partner+ Program here.
"ClearShark's customers are dealing with an ever-increasing and very dynamic threat environment. As a company founded with a "customer first" attitude, we only deliver the best overall cybersecurity solutions. We are proud to have Splunk be the cornerstone of these solutions," says Roger Niles, Vice President of Sales at ClearShark.
"Congratulations to ClearShark for being named the Public Sector Partner of the Year," said Dave Schwartz, area vice president, global strategic alliances, Splunk. "The Partner+ Program promotes growth and allows our joint customers to achieve productivity, profitability, security, and a competitive edge. The Global Partner Awards highlight outstanding partners like ClearShark for their commitment to customer success and their close collaboration with Splunk."
Splunk global partner awards reflect the top-performing partners globally within specific technology markets. All award recipients were selected by a group of Splunk executives and the global partner organization.
About ClearShark
ClearShark, a 2014 and 2015 Inc. 5000 company, is an IT Solutions Provider and Systems Integrator partnering with industry-leading innovators to maximize our customers' investments. Our highly experienced, credentialed sales team delivers the best overall cybersecurity, enterprise storage, virtualization, high performance computing, datacenter, and cloud infrastructure solutions to our federal and commercial customers.
About Splunk Inc.
Splunk Inc. (NASDAQ: SPLK) is the market-leading platform that powers Operational Intelligence. We pioneer innovative, disruptive solutions that make machine data accessible, usable and valuable to everyone. More than 11,000 customers in over 110 countries use Splunk software and cloud services to make business, government and education more efficient, secure and profitable. Join hundreds of thousands of passionate users by trying Splunk solutions for free: http://www.splunk.com/free-trials.