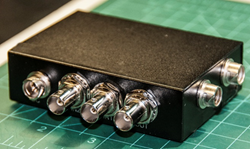 (PRWEB) April 05, 2016
Bad Wolf Technologies is proud to introduce the new DoubleVision™ Video Processor. The DoubleVision Video Processor Designed as an add-on module for the AirKnight HD™, AirKnight HD2™ and Red Hawk HD™ family of HD-SDI Video Recorders.
The DoubleVision allows the user to determine which of the two connected SDI video sources will be displayed on the SDI monitor and/or recorded on your AirKnight HD or Red Hawk HD Digital Video Recorder. This switching processor supports bit rates up to 2.970 Gbps and supports SD-SDI, HD-SDI, and 3G-SDI video signals. While it designed for the AirKnight HD and the Red Hawk HD family of HD-SDI Digital Video Recorders, it will work with many third party DVRs and Monitors.
DOUBLEVISION FEATURES:

Designed for the AirKnight HD, AirKnight HD2 and Red Hawk HD family of HD-SDI recorders
Dual channel switcher & selector
Extended cable length runs
Proprietary signal boosting technology
Support for leading video standards such as SMPTE 259M (SD-SDI), SMPTE 292M (HD-SDI) and SMPTE 424M (3G-SDI)
Multiple Color Spaces: RGB, YCbCr 4:4:4 and YCbCr 4:2:2 sampled
Supports data rates: 270Mbps~2.97Gbps
Supports 8-bit, 10-bit, and 12-bit Color Depth
About Bad Wolf Technologies LLC
Bad Wolf Technologies LLC leads the market in high definition Aviation and Marine applications for harsh environments. Our products are designed for and are found in a variety of industries and applications.
Bad Wolf Technologies COTS products are designed for applications such Aerial Helicopter Tours, Geospatial, Surveying, Line (pipeline and power line) Inspection, First Responder, Airborne Firefighting, Airborne Tactical, Mission Recording & Debriefing, and more.