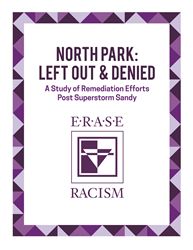 Syosset, NY (PRWEB) April 01, 2016
On Tuesday, March 29th, ERASE Racism held a community briefing, in collaboration with the Concerned Citizens of North Park, exposing the lack of Sandy remediation in Channel Park Homes, a public housing development in the historic African American community of North Park in Long Beach. Findings from the report, North Park Left Out and Denied: A Study of Remediation Efforts Post Superstorm Sandy, were released to the residents of Channel Park Homes and media.
Results from ERASE Racism's door-to-door survey of residents in the public housing development revealed that proper remediation post-Superstorm Sandy has not taken place for an overwhelming majority of the units despite the State's statement that Channel Park Homes had been repaired and reoccupied and that only "some" mitigation was needed.
Click here for a photo, taken in 2015, of possible mold growth inside a closet within a residential unit of Channel Park Homes.
See the attachments for a copy of the report and an infographic summarizing the study findings.
The briefing included testimony from residents of Channel Park Homes directly impacted by the lack of proper repair and remediation of their apartments after Superstorm Sandy, and concluded with next steps for community advocacy.
ERASE Racism has filed a request for records, pursuant to the Freedom of Information Law (FOIL), with the City of Long Beach Housing Authority. The request seeks documents related to funds received and expended by the Housing Authority for Sandy remediation at Channel Park Homes and the remediation completed in this public housing development. A courtesy copy of the FOIL request was also delivered to the City of Long Beach and the Governor's Office of Storm Recovery. ERASE Racism is pursuing other avenues to gain additional information.
Over 45 individuals attended the event. Also in attendance were two members of the Long Beach City Council, City Council Vice President Anthony Eramo and City Council Member Anissa Moore. Regional media outlets covered the event.
In addition to the findings, the report outlines ERASE Racism's recommendations for the City of Long Beach and the Governor's Office of Storm Recovery, an entity which is responsible for the oversight and supervision of New York State's operations and that of its sub-contractors to provide for nondiscriminatory Superstorm Sandy relief.
Photos and video clips from the event will be available on ERASE Racism's website shortly.
For more information contact Nuzhat Quaderi at nuzhat(at)eraseracismny.org or (516) 921-4863 ext. 13.
About ERASE Racism: ERASE Racism is a regional organization that leads public policy advocacy campaigns and related programmatic initiatives to promote racial equity in areas such as housing, public school education and healthcare. It engages in a variety of research, education and consulting activities to identify and address institutional and structural racism, primarily on Long Island.