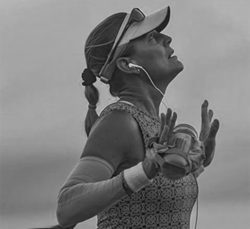 "I am fitter and stronger emotionally and spiritually, and I know what I need to do to get it done. I believe I can do this and why not try?"
Bellingham, WA (PRWEB) March 31, 2016
Nuu-Muu - creator of flattering and versatile Made in the USA dresses for active women - will outfit legendary endurance athlete Lisa Smith-Batchen while she runs 3,100 miles from LA to NYC. Her goal? Nothing short of breaking the men's transcontinental running record. In order to beat this record, and inadvertently set the women's record, Smith-Batchen will average 68 miles a day.
"We love Lisa's indomitable spirit," said Nuu-Muu founder Ashley Fullenwider. "Nuu-Muu supports women who are stepping up to their personal challenges. Lisa's goals always benefit a worthy cause, and we are happy to be part of her journeys."
Smith-Batchen – a 55-year-old mother of two – will wear Nuu-Muu's iconic dresses during her 3,100 mile run from Los Angeles to New York City. Dubbed 'Run The Nation,' her effort will begin on April 24th, 2016 and aims to break the current record of 46 days and 8 hours, which was set by Frank Giannino Jr. in 1980.
This is the third time Smith-Batchen has worn Nuu-Muu during an epic endurance accomplishment. In 2010, she ran 50 miles a day in all 50 states in 2 months to raise funds for clean water, covering a total of 2500 miles. In 2014, she successfully completed the grueling 135 -mile route of Badwater, —known as "the world's toughest footrace"— four times, back-to-back, including two summits of the 14,505-foot Mt. Whitney.
Smith-Batchen is confident she will break the record. "I am fitter and stronger emotionally and spiritually, and I know what I need to do to get it done. I believe I can do this and why not try?"
But why try in a Nuu-Muu dress? "While I was running 50 miles in all 50 states, my friend Tammy introduced me to Nuu-Muu," explained Smith-Batchen. "She bought me a dress and I loved it so much that I never ran in shorts again! I love the feel of the dress. It's so comfortable; non-restricting, no rubbing or chaffing and the silky feeling is wonderful. In the heat the dress does not stick to your body and I love the pocket in the back to carry my salt sticks and cell phone."
"Nuu-Muu was founded to accentuate the fun factor while trying brave things," Fullenwider adds. "Sometimes that means getting through a Monday and sometimes that means running your first race or beating cancer. Lisa is a heroine who inspires all she touches. We couldn't be more proud and honored to support her as a human, woman, mother and athlete!"
Smith-Batchen uses her ability to run extreme mileage to raise funds and awareness for her chosen causes. "Lisa's run is far more important than breaking a record, or adding her name to a list of legendary athletes. Her effort is for something bigger than herself," explains Smith-Batchen's website runthenation.org. Funds raised during Run The Nation will benefit The Tyler Robinson Foundation, the mission of which is to strengthen families financially and emotionally as they cope with the tragedy of a pediatric cancer diagnosis.
Smith-Batchen currently resides in Jackson Hole, WY with her husband Jay Smith-Batchen and their two daughters. For more information on Smith-Batchen and her journey, please visit runthenation.org.
END
About Nuu-Muu
Nuu-Muu started in 2008 with a singular offering: the classic Nuu-Muu exercise dress. Since then, a fiercely devoted customer base has helped the company grow steadily. Dedicated to the idea that activewear can be fun and truly flattering and that a company can contribute to greater good in the world, Nuu-Muu offers a selection of Made in USA women's active apparel that excels technically, yet is also perfectly suited as lifestyle attire. Nuu-Muu is a proud member of 1% for the Planet and the Conservation Alliance, and regularly contributes to endeavors that support strong girls and women.