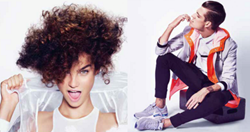 "OSiS+ Refuel is not about age or gender — it's all about creative freedom and breaking the mold to express your look."
(PRWEB) April 04, 2016
Made to create! OSiS+, the first styling range by Schwarzkopf Professional, was designed to create cool, playful, edgy and trendy looks that are always in style. In May 2016, the brand is kicking off its refuel with an updated assortment--and new, industrial design packaging--of twenty products that are designed for both hair stylists and consumers to take the claim "made to create"--literally. Whatever the look may be, OSiS+ provides the Style, Texture and Finish essentials to help unleash that creativity and create your own signature style--in the salon or at home. Quite simply, OSiS+ is "made to create" all styles edgy, cool, and creative!
OSiS+ Refuel
What's new? OSiS+ is relaunching its existing products in a new, trendy androgynous brand design; accompanied by the addition of six unique, and look-oriented hero products. The new products set to be released consists of five new Style products, and one new Texture product. The new design packaging celebrates the strong OSiS+ brand identity, and invites stylists to experiment along with their customers.
Using OSiS+ Style, Texture, and Finish products with any hairstyle, length or texture, the new and improved range allows limitless experimentation and personalization from start to finish. It's not about age or gender — it's all about creative freedom and breaking the mold to express your look.
Damien Carney, Schwarzkopf Professional North American Creative Director, has elevated hairstyling into an art form through an impressive body of work with a virtual who's who of fashion and beauty -- and is the ultimate creator! -- dishes on the new OSiS+ collection:
Stylists and consumers alike will love that they have everything they need to create any style that they can dream up with OSiS+, as it's such a comprehensive and performance-driven styling brand. Starting with a great cut as the essential foundation, and working with the right mix of product, the sky's the limit -- they can change up their look from sleek to textured, or from edgy to glamorous. It's all about whatever they envision to create; OSiS+ gives them the tools to bring their creativity to life.
OSiS+: THE NEW PRODUCTS
OSiS+ UNDERCOAT Primer Foundation
A primer foundation that creates a smooth surface and evens porosity, making hair ready for additional styling products. 2.5 fl. oz.; $20 each.
OSiS+ TAME WILD Smoothing Anti-Frizz Cream
Tackles the problems that cause frizzy hair in a single product. It smoothens the hair cuticle and transforms unruly, wild hair with a fine, smooth, shiny texture that lasts up to 7 days, or until the next hair wash! 5 fl. oz.; $20 each.
OSiS+ BIG BLAST Volumizing Gel
Volumizing gel that delivers long-lasting volume, root lift, while allowing the hair to retain a natural feel. The frizz-busting balm with inbuilt heat-shield. 6.75 fl. oz.; $20 each.
OSiS+ CURL HONEY Curl Cream
Controls thick curls, prevents frizz and restores the hair. The result: beautifully defined curls and waves. As a bonus, the product has a delicious, light honey scent. 5 fl. oz.; $20 each.
OSiS+ BOUNCY CURLS Curl Gel With Oil
Styling curl oil gel to encourage and define curls. 6.75 fl. oz.; $20 each.
OSiS+ MIGHTY MATTE Ultra Strong Matte Cream
This inventive new product is formulated to create an extreme matte look with a strong, long-lasting hold and great texture. 2.8 fl. oz.; $22 each.
DIGITAL BONUS: OSiS+ ESSENTIAL LOOKS APP
Established as innovators for the inventive use of technology to provide stylist education; Schwarzkopf Professional will be launching an OSiS+ Hair Style update to their ESSENTIAL LOOKS App to coincide with the launch.
While all past applications have been strictly color-focused, the OSiS+ app update will incorporate style inspiration, how-to's, blogger tutorials, and more to provide stylists with an incredible learning and consultation tool at their fingertips.
The app is revolutionary in that it takes the guesswork out of styling, unique features include:
Consult Like A Pro: Deliver the right look, and a sharp product recommendation.
Unleash your creativity: Show different styling possibilities.
Create Your Own Salon Look Book: Inspire your clients with the latest trends and the urban collection.
Upload Your Salon Collection: Upload your own salon hair looks for a more personalized experience.
The new OSiS+ range will be available from Schwarzkopf Professional partner salons beginning in May 2016.
###
About Schwarzkopf Professional
Schwarzkopf Professional, part of the Beauty Care business unit of Henkel Consumer Goods, has been a leader in the salon industry for the past 118 years. Established as a global leading supplier in the hairdressing business; Schwarzkopf Professional offers brands and technologies that make people's lives easier, better and more beautiful. Based on a professional partnership with the hairdresser, Schwarzkopf Professional focuses on providing innovative concepts and services, which match the needs of their International salon clientele.
Schwarzkopf Professional is present in over 80 countries. Well known International brands include; BLONDME (blonde color, care and styling), leading brand IGORA ROYAL (color), ESSENSITY (color), BC BONACURE (care), and OSiS+ (styling). Schwarzkopf Professional's mission statement, "Together. A Passion For Hair" is their point of difference, and is the unique pulse which unites their business with their salons and consumers. Their daily goal is to bring that passion for hair to life.
Henkel Consumer Goods operates worldwide, with leading brands and technologies in three business areas; Laundry & Home Care, Beauty Care and Adhesive Technologies. Founded in 1876, the company has some 47,000 employees and holds leading global market positions in both the consumer and industrial businesses, with well-known brands such as; Persil, Schwarzkopf, and Loctite.
For additional information, please visit our website at Schwarzkopf-ProfessionalUSA.com. For up to the minute news on all things Schwarzkopf Professional, follow @SchwarzkopfUSA on Instagram and Twitter, and also connect with us on Facebook at: Facebook.com/SchwarzkopfProfessionalUSA.