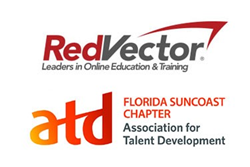 This session is perfect for organizations willing to break out of their mold to create high quality, engaging, thought-provoking content
Tampa, FL (PRWEB) March 31, 2016
Thought leaders from RedVector, the trailblazer in eLearning and workforce training solutions for the architecture, engineering, construction, industrial and facility management industries, will share learning and development experiences as part of The Association for Talent Development's (ATD) "Learning on Location" series next week.
ATD's traveling 2016 series is open to the public and serves as an open door into the operations, best practices, and training secrets of top learning and development providers. On April 6, from 11:30 a.m. to 1 p.m. in Tampa, RedVector will present "Video in eLearning – What You Need to Know to Get Started."
"Incorporating video into eLearning courses can be a very daunting task, and for this reason many companies continue to deliver their content in the way they always have – page-turning, text-based courses," said Michael Schreiner, VectorLearning Director of Education. "This session is perfect for organizations willing to break out of their mold to create high quality, engaging, thought-provoking content."
In this interactive session, VectorLearning eLearning video thought leaders Christen Loiacono, Tammy Wright and Schreiner will cover how to incorporate video into eLearning courses. The session is designed to get eLearning design out of the rut of being text-based page turners and take it from blah to boom!
By the end of the session, attendees will be able to:

Identify five considerations when contracting video talent
Determine how to design a video studio on a shoestring budget
Sequence the steps in the video course development process
Identify three techniques for directing presenters
In addition, attendees will be able to tour the VectorLearning Video Production Studio. To register for the session, go to: http://www.astd-suncoast.org/event-2197411/Registration
About VectorLearning
Headquartered in Tampa, Florida, VectorLearning is the parent company of RedVector and TargetSolutions and sets the standard for excellence in delivering online continuing education (CE) to a broad range of industries, including architecture, engineering and construction (AEC), as well as industrial, facilities management and public safety fields. VectorLearning offers individual courses to professionals as well as large-scale corporate training solutions to organizations, which feature customizable and easily accessible online universities with a full range of tracking and reporting features. With an online library exceeding 4,000 courses authored by more than 200 subject matter experts, we serve more than 400,000 professionals in all 50 states and Canada.