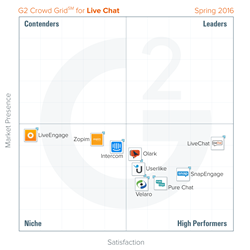 Chicago (PRWEB) March 31, 2016
G2 Crowd, the world's leading business software review platform, today released the Spring 2016 Live Chat Software Grid report to help businesses make the best live chat technology decision. LiveChat, SnapEngage, Olark, Pure Chat, Velaro, and Userlike were named High Performers in the report, earning strong customer satisfaction marks with smaller market presence scores. LiveChat earned the highest overall satisfaction score while LiveEngage earned the highest overall market presence score.
The Grid leverages customer satisfaction data reported by authenticated users along with vendor market presence determined from social and public data. Based on a combination of these scores, each software solution is categorized as a Leader, High Performer, Contender, or Niche.
Key Findings:

Vendors drink their own Kool-aid - Live Chat vendors consistently provide excellent customer service, mainly due to the use of their own live chat products, which users find provides responsive and productive feedback to their questions. The average satisfaction rating for quality of support is 92 percent, the highest average in the category.
Mobile applications are still evolving - Customers desire a strong mobile functionality for their live chat solutions. Vendors have room for improvement, with reviewers frequently noting the overall lack of mobile functionality or the nonexistence of a mobile application for their use.
Prevalence of computer software employees - The computer software industry is the most heavily represented population of reviewers for six of the nine live chat products displayed in the report. Employees from the information technology and internet industries are also frequent reviewers.
About the Live Chat Software Grid report:
The report is based on more than 220 reviews written by business professionals.
Of the roughly 68 products listed in G2 Crowd's Live Chat category, the ranked products each received ten or more reviews to qualify for inclusion on the Grid.
About G2 Crowd, Inc.
G2 Crowd, the world's leading business software review platform, leverages more than 60,000 user reviews to drive better purchasing decisions. Technology buyers, investors, and analysts use the site to compare and select the best software based on peer reviews and synthesized social data. Monthly more than a half-million people visit G2 Crowd's site. Co-founded by the founder and former executives from SaaS leader BigMachines and backed by roughly $12 million in capital, G2 Crowd aims to bring authenticity and transparency to business technology research. For more information, go to G2Crowd.com.