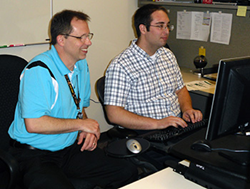 When I was younger, doctors told my parents that I would never graduate high school, hold a job or live on my own. Thank goodness my family and I were too stubborn to listen to them."
Tallahassee, FL (PRWEB) April 02, 2016
"When I was younger, doctors told my parents that I would never graduate high school, hold a job or live on my own," says Joseph Show. "Thank goodness my family and I were too stubborn to listen to them."
Joseph didn't let the doctors' diagnosis of Asperger's syndrome, which is on the autism spectrum, slow him down. Though he has difficulty understanding boundaries and faces issues with short-term memory, Joseph was determined to go to college. He went to Vocational Rehabilitation (VR), a state agency that helps people with disabilities get or keep a job, for help achieving his goal.
He first met with VR Counselor Lynn Picolo to create a career plan. The two decided that Joseph would pursue a bachelor's degree in informational technology at Florida State University. After several years of hard work, he graduated with honors, becoming the first person in his family to earn a college degree.
It took him 18 months after graduation to find just the right job, but now he's happily working for Keith Rowe at Cornerstone Software Services. He is a software developer, responsible for several mission-critical websites at the Department of Health.
"Four days a week I work at the Department of Health under the company's contract, and one day a week I work with Keith to train on whatever else I need to know so I can do the job better," says Joseph.
Keith designed this schedule to help Joseph transition into the working world. "When he first started working for me, I had to lecture him like a professor," Keith explains. "The goal was to help him become more independent, so we asked him to do more problem-solving on his own. We're teaching him how to be a better employee in the workplace."
Keith has since seen a remarkable improvement in Joseph. "We went from helping him frequently to providing him direction and letting him do it himself. We've always treated him like any other employee. Once he was doing more on his own, his productivity went up and we offered him a raise."
Keith is glad that he gave Joseph a chance to prove himself on the job, and he hopes to calm the concerns of other employers who may be wary of hiring someone with a disability. "People who are on the [autism] spectrum love to keep learning, that's why they enjoy computer programming." Keith agrees. "They can be successful as long as the employer does some assessment first and provides very clear parameters of what needs to be done. I'm very proud of what Joseph and I have accomplished."
About Vocational Rehabilitation
Florida's Vocational Rehabilitation (VR) is a federal-state program committed to helping people with disabilities become part of America's workforce. The employer-focused website, https://abilitieswork.employflorida.com/, allows businesses to search at no charge for employees who are ready to go to work, as well as to post available jobs. VR has 90 offices across Florida, and last year helped 5,760 Floridians with significant disabilities find or keep a job. For more information about VR and its services, call (800) 451-4327 or visit http://www.Rehabworks.org.