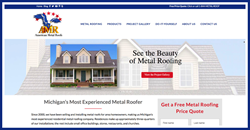 Helping to inform and educate homeowners about the benefits of metal roofing, by providing fresh content and product ideas, was paramount, when designing our new website. - Frank Farmer, President AMR
Flint, Michigan (PRWEB) April 01, 2016
American Metal Roofs is excited to announce the launch of their new customer-friendly website. This new version provides site visitors with a simpler and clean design that makes site navigation a breeze. For homeowners on the go, the new site includes an easy to use mobile version.
"In the development of the new website, our goal was to provide homeowners with a seamless web experience. Helping to inform and educate them about the benefits of metal roofing, by providing fresh content and product ideas, was paramount. We also created a site that invites people to get to know us, our products and services just a little bit better."
Frank Farmer- Founder and President of American Metal Roofs.
The new site was launched with new educational articles and content on the benefits and options for metal roofing. It also includes new pages including Energy Tax Credit and a Metal Roof Visualizer that enables homeowners to see what their new roof would look like on their existing home. Site visitors will also find an easier-to-use photo gallery, new industry reports and a Free eBook ready for download.
The AMR website also showcases a newly formatted blog to keep customers up to date on company/industry news, home improvement tips, and product development insights.
About American Metal Roofs:
American Metal Roofs provides residential and commercial metal roofing products and services for the Michigan Lower Peninsula. American Metal Roofs specializes in installing metal roofing from the leading manufacturers of permanent metal roofing.