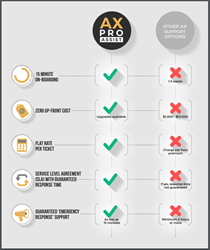 Over 74% of respondents agreed there is a 'strong' need for a new support model in the industry that offers a more predictable cost model
Portland, Oregon (PRWEB) April 05, 2016
Avitas Technologies announces the official launch of its zero-barrier-to entry support plan AXPro Assist, which originally debuted as an exclusive promotion to their current client base. AXPro Assist free is now available for all Microsoft Dynamics AX users. Avitas has created a stir among the Dynamics AX community because it allows potential clients to gain access to support instantly, with no upfront cost. Jerry Fadden, CEO and Principal Partner, surveyed existing Dynamics AX users prior to launching the initiative. Over 74% of respondents agreed there is a 'strong' need for a new support model in the industry that offers a more predictable cost model, and one that allows clients to first 'test the waters' with an AX consultant before they commit to a long term engagement.
Unlike other AX consulting firms that often require a substantial up front commitment for any type of support call, AXPro Assist supplies all new clients with 2 free support credits per month. If companies in the AXPro Assist free plan are satisfied with this support, they can upgrade to a premium plan and fully customize their engagement with Avitas, including industry-superior response time SLA as low as fifteen minutes.
CEO Jerry Fadden is excited what this offering means for clients and the industry in general. "Being a boutique consultancy that focuses solely on Dynamics AX, we often hear about the overwhelming costs and risk clients have to deal with once they've commitment to an engagement with other support solutions. Our goal for AXPro Assist is to provide a frictionless onboarding process for new clients, streamline communication and provide a predictable support structure so clients can feel 100% confident they've chosen the right support partner. No two clients' needs are the same, and we've built AXPro Assist to cater to this."
Avitas Technologies is based in Portland, Oregon, with client industries ranging from manufacturing to professional services. Fadden is confident they will maintain one of the highest client retention rates in the industry as they continue to scale operations. "By virtue of our business model, we will always maintain the size of a client selective, boutique consultancy that is beyond passionate about our customer service." "We prefer to focus on one thing, and that is providing unparalleled Dynamics AX support that is reliable, fully custom-tailored, and cost effective. A model of this kind has never been offered to the Dynamics AX community before. Based on initial feedback and testing, we're extremely confident this will deliver a win-win situation both for Avitas and our clients."
Sign-up for AXPro Assist is instant, and available online starting today for all Microsoft Dynamics AX customers.