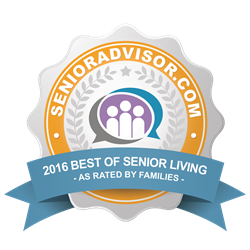 Austin, Texas (PRWEB) April 01, 2016
The annual SeniorAdvisor.com Best of Awards represents the top tier of in-home care, assisted living, and other senior living providers with only a little over 1,000 in nearly 100,000 providers being recognized. Based on online reviews by the seniors and families themselves, these awards recognize and celebrate the best of the best in senior living and home care across the United States and Canada; these distinguished elite truly exemplify the top one percent of senior care providers.
Of the more than forty American House communities in Florida, Illinois, and Michigan, seven were selected as Best of Senior Living Award recipients.
Founded in 1979, American House currently provides top-quality senior care services to seniors living in Florida, Illinois, and Michigan. The company is known as one of the most cost effective choices out there.
Value is paramount at American House. Each senior living program is designed to promote the maximum amount of care for the cost. Yet not all the focus is placed on health and medical care. An equal amount is placed on mental and emotional care. The company knows that a vibrant environment is just as important as physical wellness.
American House continues to fine-tune and expand its range of services. As the number of communities continues to grow, so does the number of options. However, the three most popular are assisted living, independent living, and memory care. These serve the widest range of different people.
Yet American House doesn't stop there. They offer a number of other types of senior care. These include congregate care, progressive care, respite care, and hospice care.
Simply put, there is a little something for everyone at American House. The senior care provider's attention to detail, emphasis on family, and welcoming environment make them a very popular choice in the three states in which they currently operate. It will be exciting to watch them expand their communities into other states in the coming years.
American House has maintained an outstanding online reputation for several years, and regularly receives highly positive reviews from their families like the ones below from some of their winning communities:
"We toured a number of communities before choosing American House Jenison. The community provided everything we were looking for and we felt the value was great for my mother. The staff is knowledgeable and available for contact for questions. They are also friendly, alert and do provide medication management. My mother feels that the food is in good portions. She has lost a little weight, which she was thrilled about. She has participated in a few of the activities and has won a few dominoes challenges." - Family member
"American House Bonita Springs was a good experience... I was impressed with their business motto. You pay as a you go. I didn't have any issues with anything. It was a really good respite stay. I was very pleased with everything." - Family member
"American House Zephyrhills is absolutely very beautiful and clean environment. The staff and the community carry themselves with a lot of respect and dignity and are very helpful. Everyone in the community as well is very respectful." - Resident
"There was a good selection of activities my mom could participate in, great menu options, and American House Troy felt like a community where I know my mom would be safe and happy." - Visitor
"They do a great job at American House Lakeside. The people here are all very friendly, the food is good, and they take great care of the people who live here. I toured quite a few options in the area and when I walked into this place I knew it was the one, it just has a really friendly welcoming atmosphere. I'd highly recommend it to anyone looking in the area!" - Family member
"The American House Village Senior Living is a wonderful facility. It has been working out great for my loved one. The facility is always clean. The staff has been very friendly and helpful. The value is great. The care services are great. They offer many activities to keep the residents busy. Everything has been going great." - Family member
"I cannot say enough good things about American House Cedarlake. Mom didn't even want to move in the first place, now she loves it. The staff is always so willing to help. I am very impressed with the communication I have with the staff. Everyone is so caring here. My parents are thrilled!" - Family member
"American House is well-known for the exceptional care we provide for the residents who choose to make their home with us," said Rob Gillette, chief operating officer at American House Senior Living Communities.
"Families are increasingly looking to online reviews to find out who truly delivers great care for our seniors, not just who claims to deliver great care," said Eric Seifert, President of SeniorAdvisor.com. "Our SeniorAdvisor.com Awards program is all about celebrating the exceptional people who do just that. We're honored to spread the word about these organizations whom families can entrust with the care of their senior loved ones."
To qualify for inclusion in the Best of 2016 Awards, providers must have maintained an average overall rating of at least 4.5 stars while receiving three or more new reviews in 2015. Additional details and a complete list of award winners can be found on SeniorAdvisor.com. To see the full list of award winners, please visit https://www.senioradvisor.com/awards/best-assisted-living
About SeniorAdvisor.com LLC
SeniorAdvisor.com is the largest consumer ratings and reviews site for senior living communities and home care providers across the United States and Canada. The innovative website provides easy access to the information families need when making a senior care decision, and features trusted reviews and advice from local residents and their loved ones. For more information, please visit http://www.SeniorAdvisor.com or call (866) 592-8119.