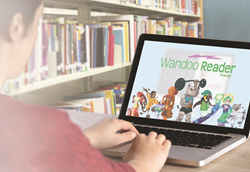 As a mom, I know how important it is for my children to engage in constructive activities during the summer.
Indianapolis, IN (PRWEB) April 02, 2016
There are many activities from swimming to art camps to keep kids occupied over the summer. However, parents consistently cite summer as the most difficult time to ensure that their children have productive things to do (Duffett et al, 2004). Where does reading fit into families' summers?
Research confirms that children who participate in summer reading programs better retain reading skills gained during the school year and may even improve their reading level.
One option is for parents and caregivers to see if their local library offers a summer reading program. An engaging program may encourage kids to read more books.
For example, Wandoo Reader 2016, a new reading program software for public libraries, also enhances learning through a game-like experience and customizable characters. Children and their parents log the books they read, and as they do so, they can earn reading incentives, unlock game play and accept challenges to further explore the library. Watch the video.
"As a mom, I know how important it is for my children to engage in constructive activities during the summer," said Nedra Sadorf, Demco president. "What better place than the public library to provide an enriching atmosphere? With Wandoo Reader 2016 everyone wins — students stay sharp and librarians connect with them. By the time everyone goes back to school, they can pick up where they left off."
Key Features
1. Family Friendly
Libraries can activate versions of Wandoo Reader for kids, teens and adults.
2. Game-like Experience
Kids stay engaged all summer long with customizable characters, redeemable points and more.
3. "Challenge" Features
Users are challenged to interact with the library and are rewarded for their efforts, which makes reading fun.
4. Enhanced Reporting
Participants create reading logs that stay with them and can be shared at school.
5. Reinforced Security
Users' data stays safe and permission settings can be tailored.
About Evanced Solutions
As part of the Demco family, Evanced provides software solutions for libraries that save staff time and engage patrons. Products include a brain fitness eResource for adults, room and event management tools and a reading program tracker and enrollment generator. Learn more.
About Demco
Demco helps schools and libraries imagine what's possible, specializing in supplies, equipment, furniture, design services and more. Learn more.
###