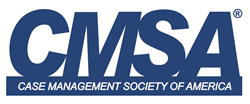 Little Rock, AR (PRWEB) April 07, 2016
The Case Management Society of America (CMSA) recently completed their 2016 Board Elections and will install their newest members of the CMSA National Board of Directors this summer at CMSA's 26th Annual Conference & Expo in Long Beach, California on June 21-23, 2016.
"Each year CMSA sees very qualified candidates nominated for office and we welcome these new members to the CMSA National Board. I look forward to working with them and their formal induction to the Board in June at the 26th Annual Conference" said Cheri Lattimer, RN, BSN, CMSA Executive Director.
The following positions were recently elected by CMSA members to join the CMSA Board:
2 Year Director (2016-2018)
Rebecca Cirri, RN, BSN, CCM, CIC
Chesapeake, Maryland Chapter
3 Year Director (2016-2019)
Betty Overbey, RN, CRRN, CDMS, CCM, CRP, MSCC
Richmond, Virginia Chapter
3 Year Director (2016-2019)
Laura Ostrowsky, RN, CCM, MUP
New York City, New York Chapter
In addition to the slate that is presented to the CMSA Members to vote on board members, each year CMSA also adds a position to the board that is elected by the CMSA Chapter Presidents. This individual must either be a current CMSA chapter president, or recently became past president. The chapter presidents have elected the following individual to the 2016 CMSA Board of Directors.
Chapter Presidents' Council Rep (2016-2017)
Jody Luttrell, RN, MSN
Chesapeake, Maryland Chapter
CMSA President Kathleen Fraser, RN-BC, MSN, MHA, CCM, CRRN remarked, "The commitment and excitement from our members to volunteer to lead at the national and chapter level demonstrates the importance and relevance of case management to patients, family caregivers and providers. I wish to extend my congratulations and welcome these new Board members. I know that through the efforts of the entire national board, we will continue to support the growing number of case/care managers who provide quality, patient-centered care."
About the Case Management Society of America (CMSA)
Established in 1990, the Case Management Society of America is the leading non-profit association dedicated to the support and development of the profession of case management. CMSA serves more than 30,000 members, subscribers and participants, and 75 chapters through educational forums, networking opportunities, legislative advocacy and established standards to advance the profession. For more information, visit http://www.cmsa.org or follow CMSA on Twitter @CMSANational