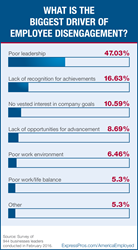 Above all, employees find satisfaction in their job through meaningful work and feeling valued.
Oklahoma City, OK (PRWEB) April 06, 2016
Express Employment Professionals released new survey results revealing what employers believe are the biggest drivers of losses in employee involvement, enthusiasm and commitment to the workplace.
In a recent poll of businesses, 47 percent identified "poor leadership" as the biggest reason for employee disengagement, followed by 17 percent who chose "lack of recognition for achievements." Eleven percent selected "no vested interest in company goals," and eight percent chose "lack of opportunities for advancement." Additionally, "poor work environment" was selected by six percent of businesses, and five percent chose "poor work/life balance."
In a complimentary survey, job seekers and those new to the work force were also asked what factors contribute to job satisfaction. "Feeling valued" and "engaging or meaningful work" tied for the top answer with 27 percent each. Another 14 percent chose "compensation," followed by 10 percent who selected "job security," five percent chose "company benefits," and four percent selected "room for advancement."
Despite the employer consensus that poor leadership causes disengagement, only six percent of workers agreed.
"Business leaders can and should focus on their leadership and communication styles to improve the job satisfaction of their workers, but as these results prove, it's not the only factor causing disengagement in the workplace," said Bob Funk, CEO of Express, and a former chairman of the Federal Reserve Bank of Kansas City.
"Above all, employees find satisfaction in their job through meaningful work and feeling valued. Thankfully, showing appreciation to employees isn't difficult, and a simple thank you often goes a long way."
The survey of 944 business leaders was conducted in February 2016. The survey of 122 job seekers and employees was also conducted in February 2016.
If you would like to arrange for an interview with Bob Funk to discuss this topic, please contact Sherry Kast at (405) 717-5966.
About Robert A. Funk
Robert A. "Bob" Funk is chairman and chief executive officer of Express Employment Professionals. Headquartered in Oklahoma City, the international staffing company has more than 760 franchises in the U.S., Canada and South Africa. Under his leadership, Express has put more than 6 million people to work worldwide. Funk served as the Chairman of the Federal Reserve Bank of Kansas City and was also the Chairman of the Conference of Chairmen of the Federal Reserve.
About Express Employment Professionals
Express Employment Professionals puts people to work. It generated $3.02 billion in sales and employed a record 500,002 people in 2015. Its long-term goal is to put a million people to work annually. For more information, visit ExpressPros.com.