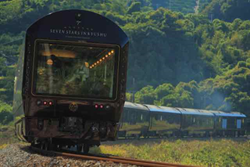 "The Seven Stars is a work of art on wheels." IRT Founder & CEO Owen Hardy
LOUISVILLE, KY (PRWEB) March 31, 2016
The Society of International Railway Travelers® has chartered a departure of the Cruise Train Seven Stars in Kyushu, the first travel agency based in the Western Hemisphere to do so. The agency is a member of the invitation-only luxury travel group, Virtuoso.®
The Society's "Deluxe Rail Journey of Japan," running Nov. 5-19, ends its program with four days on the Seven Stars.
The Seven Stars has astounded the travel world since its October, 2013 startup.
Clamor for space is so great that its operator, JR Kyushu, routinely holds lotteries to see who gets to ride.
"The Seven Stars is a work of art on wheels," said Society Founder & CEO Owen Hardy. He tested the train in November. "We've just announced the Seven Stars as the newest of our World's Top 25 Trains® – and we are honored to be the first agency in the Western Hemisphere to charter the train."
Conducted in English, the Society's 10-day "Deluxe Rail Journey of Japan" visits some of Japan's most famous cities, among them Tokyo, Hakone, Kyoto, Hiroshima and Miyajima.
Guests will ride several of Japan's famed bullet trains and enjoy special trains such as the Odakyu Romance Car and the Yurikamome Train.
Other tour highlights include a traditional Japanese tea ceremony, traditional Japanese drumming (taiko), sake-tasting, a traditional Japanese potter's workshop, dinners with a geisha, market visit, cooking lesson with an Iron Chef and overnights at traditional ryokans with hot springs.
Plus, they'll visit "bright Fukuoka," known for its shopping, entertainment and yattai, Fukuoka's famous pop-up restaurants.
The grand finale will be a four-day trip on the Seven Stars, with two nights spent on the train. The other night is spent in a traditional Japanese ryokan, where guests will enjoy their own private hot spring.
Post-tour, guests will have an option to ride the tiny Sasebo-Nagasaki Sweet Train, a delightful amalgam of brilliant design, delicious food and impeccable service.
The Society's luxury rail tour has space for a maximum of 28 guests; 5 cabins remain.
For more information or to book, contact The Society of International Railway Travelers®: call (800) 478-4881 or (502) 897-1725, email tourdesk(at)irtsociety(dot)com or visit http://www.irtsociety.com.