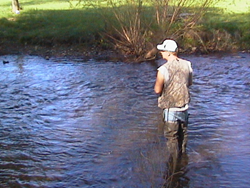 The Chambersburg Trout Derby is a way for the Chambersburg Noontime Lions to raise money to gift back to the community.
Franklin County PA (PRWEB) March 31, 2016
Fisherman have been coming to Franklin County for decades. Presidents Dwight Eisenhower and Jimmy Carter both fished the waters of Franklin County because the fishin' is good. Anglers of all ages are invited to find out what these prestigious anglers knew and catch as many fish as they can at the 19th Annual Trout Derby in Chambersburg on May 7-8. Not only is it a chance to enjoy spring fishing, but hopefully bring in a money fish or two. Sponsored by the Chambersburg Noontime Lions Club, the Chambersburg Trout Derby is the top trout derby in the U.S.
Approximately 600 specifically tagged trout are released by members of the Noontime Lions Club with nearly $25,000 in "money fish." Fishermen will have the span of two days to catch these fish from the Conococheague Creek between the concrete bridge near the Scotland Post Office in Scotland PA to the concrete abutement in the T.K. & Nellie Nitterhouse Soccer Complex, just outside downtown Chambersburg. Fishing begins at 6 AM on Saturday, May 7, and concludes at 3 PM on Sunday, May 8. The Trout Derby check-In station is 125 W. Washington Street in downtown Chambersburg. Last minute, in-person registrations will be taken on Friday, May 6, from 4 PM to 8 PM as well as 4 AM to 6 AM on Saturday, May 7. All anglers, age 16 and older, must have a valid PA Fishing License and a Trout Stamp.
A 50/50 contest for the top three largest specially tagged trout adds fun and excitement to the derby. The biggest fish is determined by the total length and girth. Prize money approximates $2000 for the largest trout. Also included in the derby is a chance to win a pre-owned vehicle, valued at $30,000 and sponsored by Forrester Lincoln of Chambersburg. All fisherman, age 18 or older and living within 400 miles of the event, are entered into the vehicle contest. To win, an eligible fisherman's last seven digits of his/her drivers license number must match the preselected numbers exactly. In addition, a raffle drawing for a variety of outdoor prizes, such as kayaks, tents, fishing rods, binoculars, a fishing trip, and tackle boxes takes place on Sunday at noon at the Washington Street check-In station.
The Chambersburg Trout Derby is a way for the Chambersburg Noontime Lions to raise money to gift back to the community. Since starting in 1997, the Lion's Club has given more than $250,000 to the local community, including a recent pledge of $10,000 for the Franklin County Library System's Coyle Free Capital Campaign. The club also volunteers at local homeless shelters, collects eyeglasses for the needy, and honors an area "teacher of the month."
The Franklin County Visitor Bureau invites all to explore Franklin County PA and enjoy the trails of history, art and architecture, fishing and recreation, natural beauty, fresh foods and the warm hospitality of communities like Chambersburg, Greencastle, Mercersburg, Shippensburg, and Waynesboro. Franklin County PA is located just north of the Mason Dixon Line and is an easy drive to Washington DC, Philadelphia, and Pittsburgh. Discover more...plan a visit soon at ExplorerFranklinCountyPA.com.