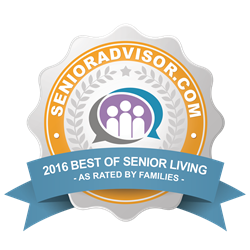 Austin, Texas (PRWEB) April 11, 2016
The SeniorAdvisor.com Best of Awards represents the top-tier of in-home care, assisted living, and other senior living providers not only because it recognizes the top tier providers but also because the winners are chosen by the consumers themselves. Chosen according to reviews written by seniors and their families, winners of the Best of Award are the recognized top one percent of senior care providers across the United States and Canada.
Koelsch Senior Communities was established in 1958 in Olympia, Washington. Today, they serve more than 1,500 seniors across the United States.
With 23 senior living communities in total, Koelsch Senior Communities protects the needs of seniors in Arizona, California, Idaho, Illinois, Montana, Texas, and Washington. And each facility is dedicated to just that – community.
Visit any of the 23 communities and you'll be wowed by the friendly staff members, beautiful grounds, comfortable living quarters, and great food. You'll immediately notice just how happy the current residents are. Koelsch Senior Communities doesn't just give seniors a place to survive – it gives them a place to live life to the fullest.
Yet Koelsch Senior Communities also knows that everyone's needs are different. With a keen attention to detail and individualized care, they're able to offer programs that suit almost everyone's needs. These range from independent living to assisted living to memory care and more.
Once again, the key behind this family owned and operated senior living provider is community. They establish a real sense of community, between both residents and staff. The comfortable atmosphere combined with the top-notch health care, excellent customer service, and vibrant activities help Koelsch Senior Communities stick out from the pack.
Koelsch Senior Communities has maintained an outstanding online reputation for several years, and regularly receives highly positive reviews from their families like the ones below from some of their winning communities:
"It was unbelievable that we found a place that my family and I felt so good about moving my dad in to. The warm atmosphere and endless social rooms and activities were fabulous but nothing compared to the pleasant helpful staff at Canterbury Inn." - Family member of resident
"My father has been living at Sterling Commons since May 2015. It's a wonderful place! It's very clean and homey, comfortable and welcoming. But the very best of Sterling Commons is the staff. Everyone there is caring, efficient, and professional at every level. Even the housekeeping staff know the residents and interact with them. I've seen staff members stopping in their path just to talk to or hug one of the residents." - Family member of resident
"The Canterbury Gardens was so good to educate and support me through a tremendously difficult time when I learned my mother had dementia. The Alzheimer Support Group was key to my survival!! Though the guilt is hard to swallow in placing my mother in an assisted living facility, I knew I wasn't able to do it alone. The Canterbury Gardens team was able to give her love, dignity, respect and compassionate care. The staff was educated on how to approach someone who has behaviors. I have no regrets knowing that I had made the right decision even though it was an emotional one!" - Daughter of resident
"Knowing that our mother is lovingly & safely cared for at Spring Creek Inn has been a huge 'weight off our shoulders.' The staff is very understanding and patient of the needs, challenges, & concerns specific to dementia. We are truly grateful for this community." - Daughter of resident
"We're using Copper Creek Inn for day care services, and so far our experience has been a good one! The facility itself is clean and well kept, and the staff have all been easy to work with." - Family member
"We moved my mother into this home a month ago. The staff has been very caring. The one thing that always bothered me about visiting elderly care facilities was the smell. Riverside Inn always smells fresh and clean. That shows me that they take care of their residents and their surroundings. My mom says she likes it there and appears to be very happy. It was such a difficult decision to move my mom into a facility, but we feel we made the right choice in Riverside Inn at Fossil Creek." - Daughter of resident
"Families are increasingly looking to online reviews to find out who truly delivers great care for our seniors, not just who claims to deliver great care," said Eric Seifert, President of SeniorAdvisor.com. "Our SeniorAdvisor.com Awards program is all about celebrating the exceptional people who do just that. We're honored to spread the word about these organizations whom families can entrust with the care of their senior loved ones."
To qualify for inclusion in the Best of 2016 Awards, providers must have maintained an average overall rating of at least 4.5 stars while receiving three or more new reviews in 2015. Additional details and a complete list of award winners can be found on SeniorAdvisor.com. To see the full list of award winners, please visit https://www.senioradvisor.com/awards/best-assisted-living
About SeniorAdvisor.com LLC
SeniorAdvisor.com is the largest consumer ratings and reviews site for senior living communities and home care providers across the United States and Canada. The innovative website provides easy access to the information families need when making a senior care decision, and features trusted reviews and advice from local residents and their loved ones. For more information, please visit http://www.SeniorAdvisor.com or call (866) 592-8119.