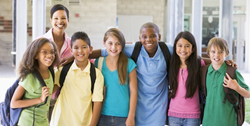 Salt Lake City, UT (PRWEB) April 02, 2016
Professor Sarah J. McCarthey, President of the McCarthey Dressman Education Foundation has announced that the Foundation is now accepting applications for 2016/2017 Student Teaching/Mentoring Scholarships at four universities. The deadline for applications is April 15, 2016, but all applicants should begin the application process immediately in order to allow reference providers time to submit letters of recommendation through the online application system.
Student Teaching/Mentoring Scholarships are funded in the amount of $6,000 each. Full-time students specializing in elementary or secondary education who are in their final year of teacher education programs at New Mexico State University, University of California at Santa Cruz, University of Texas at Austin and Stephen F. Austin State University are eligible to apply for the one-year Student Teaching Scholarships.
Applicants are strongly encouraged to review frequently asked questions before applying.
Access the online application: http://www.mccartheydressman.org
To learn more visit http://mccartheydressman.org/student-teaching-scholarshipsmentoring/
About McCarthey Dressman Education Foundation:
The mission of McCarthey Dressman Education Foundation (mccartheydressman.org) is to serve as a catalyst in maximizing the skills and creativity of educators at the K-12 levels and in cultivating pioneering approaches to teaching that result in dynamic student learning. The Foundation sponsors proposals that enhance student learning and educational quality, paying particular attention to those that best serve the at-risk and under-funded.