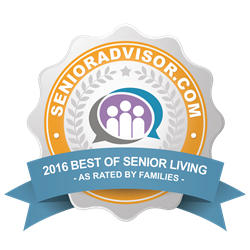 Austin, Texas (PRWEB) April 02, 2016
SeniorAdvisor.com recently announced their annual Best of Awards for senior living and home care in the United States and Canada, and four JEA Senior Living communities made the list. Winners of the Best of Award are being recognized as the top ten percent of providers out of nearly 100,000 and, more importantly, they are chosen according to reviews written by those who matter most - seniors and their families.
JEA Senior Living honors the experience of aging. The organization is committed to providing the absolute best health and medical care possible while promoting a happy and vibrant life.
Based out of Vancouver, Washington, JEA Senior Living has grown from a small operation into a multi-state company with over 45 care facilities. These are spread across 15 states including Arizona, California, Colorado, Illinois, Indiana, Iowa, Kansas, Missouri, Nebraska, New Mexico, Oklahoma, Oregon, Texas, and Washington. They also operate a care facility in Ontario.
JEA Senior Living provides a wide range of senior care services. Each of these is tailored to the individual in question. This allows for the best and most personal care possible.
Independent living and assisted living are popular care options. However, it's memory care for those struggling with Alzheimer's and dementia that JEA Senior Living is best known for. Other services include hospice and respite care.
At JEA Senior Living, each resident is treated like family. It's founder Jerry Edwin's mission to treat each member like he expected his mother to be treated when she developed Alzheimer's before JEA was established. That means love and compassion are at the forefront of the care.
JEA Senior Living has maintained an outstanding online reputation for several years, and regularly receives highly positive reviews from their families like the ones below from some of their winning communities:
"Amazing place. Staff very caring. The times I have visited, the facility has been pretty clean. Staff is always catering to the seniors at the facility and they seem to have great activities throughout the month. I have been a personal caregiver for years and haven't seen many places like Prairie Winds. I highly recommend it for anyone needing care for their loved one." - Visitor
"She absolutely loved it at Parkwood. The caregivers, dining staff, social staff and business staff were excellent. The staff is engaging and caring. Because of my aunt's medical condition extra care was required, and they treated her as the lady she was, being attentive to her medical and personal needs." - Nephew of resident
"They do a great job overall at Cinco Ranch Alzheimer's, I'd give them high marks across the board! The facility is well kept and clean and the staff is friendly and professional, and they provide all of the care and activity that you would want for your loved one. I'd highly recommend them!" - Family member of resident
"My aunt and I were welcomed with compassion and open arms. The staff is amazing. I visit often and always find the staff interacting with the guests! Calling them by name, hugging them and touching them. They just want someone to hold their hand or hug them can make their day!
I am thankful everyday for the home they have provided and the care they are giving her." - Family member of resident at Southern Plains Alzheimer's Care
"Families are increasingly looking to online reviews to find out who truly delivers great care for our seniors, not just who claims to deliver great care," said Eric Seifert, President of SeniorAdvisor.com. "Our SeniorAdvisor.com Awards program is all about celebrating the exceptional people who do just that. We're honored to spread the word about these organizations whom families can entrust with the care of their senior loved ones."
To qualify for inclusion in the Best of 2016 Awards, providers must have maintained an average overall rating of at least 4.5 stars while receiving three or more new reviews in 2015. Additional details and a complete list of award winners can be found on SeniorAdvisor.com. To see the full list of award winners, please visit https://www.senioradvisor.com/awards/best-assisted-living
About SeniorAdvisor.com LLC
SeniorAdvisor.com is the largest consumer ratings and reviews site for senior living communities and home care providers across the United States and Canada. The innovative website provides easy access to the information families need when making a senior care decision, and features trusted reviews and advice from local residents and their loved ones. For more information, please visit http://www.SeniorAdvisor.com or call (866) 592-8119.