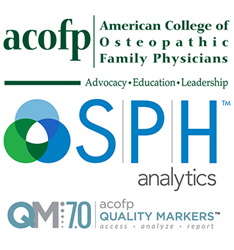 David Hanekom, Chief Medical Officer of SPH Analytics, presenting on how quality reporting impacts payment models at the Annual Convention & Scientific Seminars of ACOFP
Alpharetta, GA (PRWEB) April 01, 2016
David Hanekom, M.D., F.A.C.P, Chief Medical Officer of SPH Analytics, will be presenting on how quality reporting impacts payment models at the 53rd Annual Convention & Scientific Seminars of the American College of Osteopathic Family Physicians (ACOFP) taking place April 6-9, 2016, in San Juan, Puerto Rico.
Hanekom and ACOFP Immediate Past President, Carol Henwood, D.O., FACOFP dist., will present "The Coming Wave of Value-Based Payment and Quality Reporting" on Wednesday, April 6 at 1:00 p.m. The presentation will focus on reporting quality of care as it relates to current medical practice including population health goals and regulatory performance tied to healthcare reimbursement. Additionally, the speakers will discuss the history of healthcare reimbursement as it transitions from fee-for-service to the current outcomes-based reimbursement model and moves toward the new CMS practice transformation concept, MACRA, in the future.
Dr. Hanekom oversees development of population health applications at SPH Analytics including the ACOFP's Quality Markers program. In the past year, SPH Analytics has worked to develop a number of population health analytic solutions that enable hospitals and physicians to measure and analyze performance for success in the outcomes-based healthcare market under the guidelines of the Triple Aim. Additionally, Hanekom is a Board member of the Consortium for Southeastern Hypertension Control (COSEHC).
Hanekom is a Fellow of the American College of Physicians and previously a Clinical Associate Professor of Medicine at the UND School of Medicine and Health Sciences. As a previous Chief Medical Officer at a national health plan and Director of Chronic Disease Management at Sanford Health System North, Dr. Hanekom has gained expertise in population health management and strategies which improve healthcare outcomes.
About the American College of Osteopathic Family Physicians (ACOFP)
Osteopathic Family Physicians are DOs (Doctors of Osteopathy) who specialize in Family Medicine and Osteopathic Manipulative Treatment, a method in which they use their hands to diagnose and treat the patient, giving particular attention to joints, bones, muscles and nerves. DOs promote a patient-centered approach to health care.
Founded in 1950, the American College of Osteopathic Family Physicians is the national professional organization of more than 20,000 practicing osteopathic family physicians and physicians-in-training. The ACOFP's mission is to promote excellence in osteopathic family medicine through quality education, visionary leadership and responsible advocacy.
About SPH Analytics
SPH Analytics (SPHA) is a leader in action analytics, providing best-in-class solutions and transformative technologies for provider, payer, and health networks. By providing powerful applications, analytics, healthcare surveys, call center services, and consulting, SPHA solutions lead the way for the next generation of healthcare. SPHA enables clients to increase member and patient satisfaction, improve population health, drive patient engagement, and reduce overall cost of care. SPHA solutions incorporate an engaging social-media style user experience, optimized for mobility and communication, to measure data, create easy-to-understand analytics, and empower action.
Founded through the merger of Voyance, MDdatacor, Archimedes Clinical Analytics, and The Myers Group, SPH Analytics is based in Alpharetta, GA, with offices in Branford, CT, San Francisco, CA, Nashville, TN, and Duluth, GA. SPH Analytics is a member of the $3 billion Symphony Technology Group. For more information, call 1-866-460-5681 or visit SPHAnalytics.com.