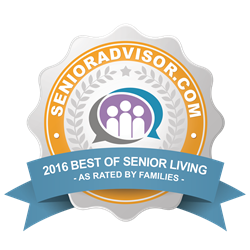 Austin, Texas (PRWEB) April 14, 2016
Of the millions of choices people have in senior living and home health care, SeniorAdvisor.com has chosen to recognize top-tier of care according the most important source - the consumers. Based on reviews written by seniors and their families, the annual SeniorAdvisor.com 2016 Best of Awards showcases the top choice of in-home care, assisted living, and other senior living providers across the United States and Canada.
Winners of the SeniorAdvisor.com Best of 2016 Awards places the winners in the top one percent of senior care providers, with only a little over 1,000 providers being recognized out of nearly 100,000 providers. This exclusive designation truly celebrates the best of the best in senior living and home care.
Respect and compassion are the hallmarks of the high-quality senior living care provided by Saber Health. Established in 2001 in Cleveland, Ohio, the company now operates 81 communities scattered across Pennsylvania, Ohio, Florida, Virginia, Indiana, and North Carolina.
Saber Health is dedicated to providing the highest level of medical care in a comfortable, welcoming, and friendly environment. This environment is greatly appreciated by residents and their families alike.
The care offered by Saber Health is designed to enhance the lives of residents. The goal is to continue to make life something worth living. In addition to maintaining and improving health, the company strives to maintain and improve happiness as well.
The individual services offered by Saber Health are varied. They can be tailored to the specific needs of each individual senior. However, a few of the most common care choices include skilled nursing care, post-surgical care, palliative and hospice care, pain management, and assisted living.
No matter the type of care you choose, you can be sure it's administered with caring and compassion. The staff at Saber Health is dedicated to providing whatever type of care and help is needed with the utmost warmth and kindness.
Saber Health has maintained an outstanding online reputation for several years, and regularly receives highly positive reviews from their families like the ones below from some of their winning communities:
"The Crossings at Steele Creek staff were excellent at transitioning my mom to living here. They went out of their way to accommodate her. The staff members here are very responsive. I am really pleased with this facility." - Family member of resident
"My father and step-mother have been living at the Crossings at Riverview for approximately two months. We couldn't be happier with the level of care, interaction and support for our family. The facility and setting are gorgeous. The staff very friendly and helpful and the food is very good. There is a wide variety of activities that keep residents engaged and busy. We would definitely recommend this facility to anyone needing an Assisted Living environment."
"We toured this place, and I thought it was very good! The staff were very nice, helpful, and informative, and the care services looked excellent. They also seemed to have a lot to offer in terms of activities and amenities. I liked that they had a dining room and someone who actually prepared their meals, not just cold food, and the hair salon too, so mom could get her hair done. I would recommend this community!" - Visitor
"Families are increasingly looking to online reviews to find out who truly delivers great care for our seniors, not just who claims to deliver great care," said Eric Seifert, President of SeniorAdvisor.com. "Our SeniorAdvisor.com Awards program is all about celebrating the exceptional people who do just that. We're honored to spread the word about these organizations whom families can entrust with the care of their senior loved ones."
To qualify for inclusion in the Best of 2016 Awards, providers must have maintained an average overall rating of at least 4.5 stars while receiving three or more new reviews in 2015. Additional details and a complete list of award winners can be found on SeniorAdvisor.com. To see the full list of award winners, please visit https://www.senioradvisor.com/awards/best-assisted-living
About SeniorAdvisor.com LLC
SeniorAdvisor.com is the largest consumer ratings and reviews site for senior living communities and home care providers across the United States and Canada. The innovative website provides easy access to the information families need when making a senior care decision, and features trusted reviews and advice from local residents and their loved ones. For more information, please visit http://www.SeniorAdvisor.com or call (866) 592-8119.